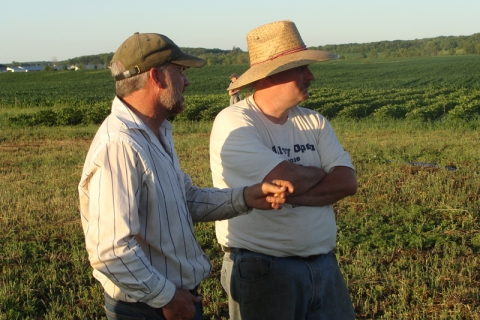 Family farms thrive when they have strong community support. Farmers support each other in countless ways- tips on fixing a tractor, harvest help, troubleshooting a struggling crop, commiseration and celebration.
LSP's Farmer Network connects stewardship farmers across the region through field days, tours, and workshops. The Network consists of over 130 farmers that raise a wide range of food and fiber. We publish a Network handbook so that people can connect independently to visit each other, share experiences and informal mentoring, and build the relationships that help farms and farmers to thrive. Farm Beginnings was started by folks who wanted to help the next generation of farmers get started, and the Network is one way that farmers continue to invest in each other.
Farmer Network Handbook Sign Up
The Farmer Network Handbook is an annual publication that lists Farm Beginnings graduates and LSP member farmers who have made themselves available for networking and informal mentoring. Farms list contact information, production and business strengths, and opportunities for tours and work exchanges. To list your farm in the Handbook, please fill out this form.