The Land Stewardship Project's Soil Builders' Network is developing a series of short videos highlighting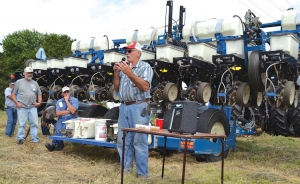 how farmers are utilizing cover crops, rotational grazing, diverse crop rotations and no-till to build soil health in economically viable ways. We will be adding videos to this page as they are produced. Here's what we have so far:
• Multi-Species Cover Crop Mixes
TJ Kartes of Saddle Butte Ag talks about the advantages of multi-species cover cropping.
• How Do We Stop Erosion?
TJ Kartes of Saddle Butte Ag talks about how cover crops can help "armor" the soil, preventing erosion and fertilizer runoff.
• Cover Crops & Tile Lines
TJ Kartes of Saddle Butte Ag talks about the issue of cover crop roots plugging farmland drainage tile lines.
• Seeding Cover Crops
Southeastern Minnesota farmer Tom Pyfferoen shows how he sets up his old planter for seeding fall cover
crops.
• Grazing Cover Crops
Kaleb Anderson describes how he uses the grazing of cover crops to heal and build soil health, and generate income.
• Conservation on a Dime
Southeastern Minnesota farmer Ed McNamara describes how he modified used equipment to build a low-cost planter that can interseed cover crops into standing V6 corn.
• Soil Health Workshops
A 5-minute overview of how LSP carries out our soil health workshops in southeastern Minnesota, focusing on a Feb 15, 2017, event in Caledonia that featured Dr. Kris Nichols of the Rodale Institute.