Our Bridge to Soil Health Project works with crop and livestock farmers and other professionals that view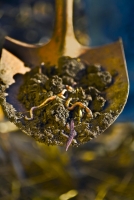 soil as a long-term investment. LSP acts as a bridge between emerging soil health information and local farming practices, thereby uniting a community of farmers as the Soil Builders' Network. Join the network to get regular updates on workshops, field days, on-farm demonstrations and emerging soil health research. Soil health is imperative to our ecological health, and it includes the integration of cover crops, annual crops, perennials and livestock on the agricultural landscape. Soil regeneration is the answer to restoring the soil's natural productivity, improving profits, protecting water quality, building resiliency into crops, sequestering carbon, and helping to reverse the trends of climate change.
Please join us!
New Soil Health Video
Check out LSP's latest soil health video. In this one, a southeastern Minnesota farmer describes setting up a planter for seeding cover crops. Click here.
We are Hiring
The Land Stewardship Project is seeking a full-time staff member to join our Bridge To Soil Health organizing initiative, based in southeastern Minnesota (Lewiston). A full job description is here.