Farming to Capture Carbon & Address Climate Change Through Building Soil Health
How Well-Managed Grazing & Continuous Living Cover Benefit the Climate, Our Waters,
Farmers & Taxpayers Through Improved Soil Health
Humans must act to reduce annual greenhouse gas emissions by at least 25% by 2030 to limit global average temperature increases to less than 2 degrees centigrade. Such a reduction may help us avoid the most catastrophic effects on people, especially the poor and those who live in coastal areas, as well as our life support systems on Earth. Along with reducing fossil fuel emissions, one key way to stabilize atmospheric carbon dioxide levels is by sequestering carbon. Written by George Boody, this Land Stewardship Project white paper outlines how well managed grazing of ruminant livestock combined with continuous living cover systems such as cover cropping can help agriculture play a major role in solving our climate crisis. This paper also outlines specific policy recommendations for reaching climate mitigation goals.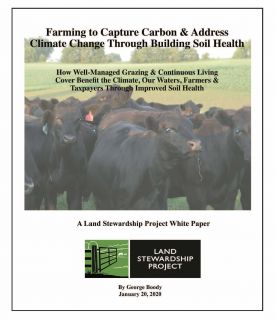 Contact
For more information or to obtain a paper copy of the white paper, contact LSP's George Boody at 612-722-6377 or via e-mail.
Radio Interview
White paper author George Boody recently discussed the report and its ramifications on Food Freedom Radio.
Carbon Farming Videos, Podcasts & Fact Sheets
• Fact Sheet: Farming with Well-Managed Grazing & Continuous Living Cover Enhances Soil Health & Addresses Climate Change
• Video: Building Soil for a Changing Climate: Farmers Talk About Climate Change
• Video: How One Farmer is Responding to Climate Change
• Video: Farming Practices for a Changing Climate
• Video: Using Cattle and Cover Crops to Create Cash & Healthy Soil
• Podcast: Kaleb Anderson's evolving view of livestock allows him to make a direct connection between profitability and soil health.
• Podcast: Farmer Tom Frantzen describes how he is using diversity to make his farm more resilient in the face of extreme weather.
• Podcast: LSP's George Boody describes what he learned at an international conference on how agriculture can sequester greenhouse gases.