Prediction & Monitoring of Landscape Changes from Continuous Living Cover
Using an innovative approach, the Chippewa 10% Project has combined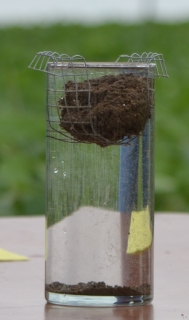 scientific models and our strong relationships with farmers to determine the environmental and economic impacts of getting more continuous living cover on the landscape.
This strategy focuses on farmer-to-farmer learning using our various networks. We are also helping farmers, ranchers and other landowners utilize cutting edge economic calculators and geographical information system (GIS) mapping technology to determine what management strategies will work best on a field-by-field basis.
Combining these two approaches gives farmers insights into how changes on their land can impact the health of the entire watershed. This also provides researchers feedback on how realistic the scientific modeling is, providing a bridge between the academic world and farm communities.
Watershed Level Analysis
Using GIS mapping and local knowledge, the Chippewa 10% Project developed four scenarios to understand the potential environmental benefits of adding more continuous living cover to the Chippewa River watershed. Specifically, strategies such as adding perennial grasses, introducing longer crop rotations, reducing fertilizer applications in corn plantings, inter-planting cover crops with row crops and utilizing managed intensive rotational grazing were considered.
Results of the modeling indicate that if farmers established more continuous living cover on the landscape, it could reduce agricultural pollutants in waterways as well as increase habitat for pollinators and birds. Modeling also shows that not only would these changes sustain individual farmers financially, but it also has the potential to increase profits across the entire watershed over a 10-year period when compared to a sustained corn/soybean rotation.