October 28, 2017, 6 pm-9 pm
York Farm, 21161 York Road, Hutchinson, MN 55350
Admission is free for this event, but reservations are required. To register, click here.
In collaboration with Land Stewardship Project, the Sustainable Farming Association's Crow River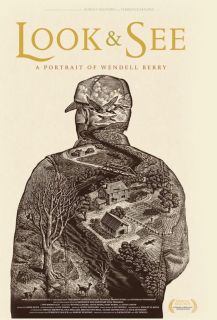 Chapter presents a Fall Social as another in their ongoing series of Farmer-to-Farmer Networking events. The evening will feature the Minnesota premiere of the new film, Look & See: A Portrait of Wendell Berry, and will bring together new and established farmers for a time of community and networking.
Look & See is a visually stunning ode to a changing cultural landscape as imagined through the eyes of Wendell Berry, one of the foremost living American writers and poets, and author of the seminal The Unsettling of America. In 1965, Berry returned home to Henry County, Kentucky, where he began a life of farming, writing and teaching. This lifelong relationship with the land and community would come to form the core of his prolific work. A half-century later Henry County, like many rural communities across America, has become a place of quiet ideological struggle.
Look & See revolves around the divergent stories of several residents of Henry County, who each face difficult choices that will dramatically reshape their relationship with the land and their community.
Look & See, co-produced by Robert Redford, was a Spotlight Selection film at the 2017 Sundance Film Festival, won a Special Jury Award at the SXSW Film Festival in 2016, and took top honors at the Nashville Film Festival and Environmental Film Festival.
This Minnesota premiere showing takes place at York Farm in Hutchinson. A social hour begins at 6 p.m., with snacks and beverages, followed by the film screening at 7 p.m.
After the film, desserts will accompany an open discussion about the movie.
This event is funded by proceeds from Minnesota Garlic Festival, an educational and fundraising event produced by the Crow River Chapter on the second Saturday in August in Hutchinson, Minn.