Oaxaca, Mexico
RSVP to Aaron Blyth, 651-253-7268, ablyth@landstewardshipproject.org
The Land Stewardship Project is inviting members to participate in an LSP-Witness for Peace delegation to Oaxaca, Mexico, Feb. 4-13. This will be the second LSP-Witness for Peace trip to the region since 2016.
LSP members participating in the 2018 delegation to Mexico will investigate firsthand the effects of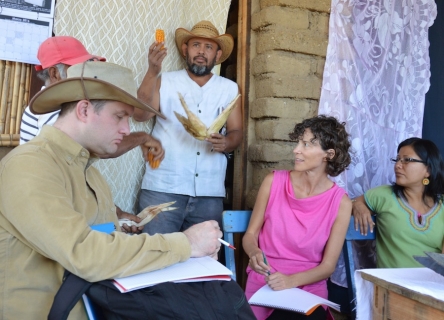 NAFTA over the past two decades, particularly on Mexican small farmers and communities. Trip participants will stay in a community with high rates of out-migration and learn about the effects on family, community life and farming. They will also meet with Mexican farmers working on reforestation efforts, protection of native crops and promotion of local markets and food consumption. This is an opportunity to compare the impacts of large-scale farming in Mexico and the U.S., while strengthening a global grassroots movement for sustainability, food sovereignty, migrant rights and land rights.
Through visiting Oaxacan farmers on their land, listening to their stories of societal change following NAFTA, and making connections of the heart, delegates will experience what local agricultural communities look like in Mexico. LSP Delegates will bring those experiences back to Minnesota and use them to inform the work within our own communities to create models of rural vitality, sustainable food and farming systems, and racial justice.
We are looking for 20 participants. We would like to have a confirmed list of at least 10 delegates by December 1.
The total cost of the trip will be $1,200, plus airfare from the United States (airfare will most likely be between $800 and $1,000). The $1,200 will cover all in-country expenses including: lodging, meals, interpretation and facilitation, and travel. LSP has a pool of scholarship money available and is committed to making this trip affordable to its members.
See the left-hand column on this page for a link to the application form. If you are interested and/or have further questions, please e-mail LSP's Aaron Blyth or call him at 651-253-7268.