November 29, 2018, 6:30 pm-7:30 pm
Hutchinson Public Library, 50 Hassan Street SE, Hutchinson, MN 55350
Google Map »
RSVP to Katy Hiltner, 320-587-2368
Join agricultural journalist Brian DeVore on Thursday, Nov. 29, beginning at 6:30 p.m., at the Hutchinson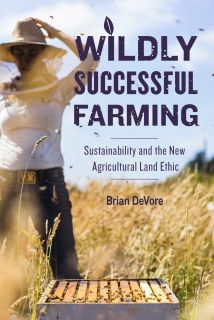 Public Library for a discussion centered around his new book, Wildly Successful: Sustainability and the New Agricultural Land Ethic. This book tells the stories of farmers in Minnesota and across the Midwest who are balancing viable food production with environmental sustainability and a passion for all things wild. They are using innovative techniques and strategies to develop their "wildly successful" farms as working ecosystems.
DeVore, a writer, editor and podcaster who works for the Minnesota-based Land Stewardship Project, has spent the past 25 years traveling the Midwest, conducting interviews with the farmers, scientists, activists and other "ecological agrarians" who are blending the wild and the tame as they strive to create environmentally and economically sustainable food production systems.
DeVore will be on-hand during this free event to sign copies of Wildly Successful Farming. He will read from his book and discuss what we can all do to support the wildly successful farmers who are raising healthy food, protecting our water and building resilient landscapes.
Other Reading Events this Fall & Winter
This is one in a series of Wildly Successful Farming events:
• Tuesday, Nov. 27: University of Minnesota-Morris (Rm. 1020 of the Science Building), 7 p.m.-8:30 p.m.
• Wednesday, Nov. 28: Common Cup Coffeehouse, Morris, Minn., 2 p.m.-3 p.m.
• Wednesday, Nov. 28: Java River Coffee Shop, Montevideo, Minn., 5:30 p.m.-7 p.m.
• Thursday, Nov. 29: Hutchinson Public Library, Hutchinson, Minn., 6:30 p.m.-7:30 p.m.
• Thursday, Jan. 17: Magers & Quinn Booksellers, Minneapolis, Minn., 7 p.m.-8 p.m.