April 27, 5 pm-9 pm
Anderson Center, 163 Tower View Drive, Red Wing, MN 55066
Google Map »
RSVP to Elizabeth Makarewicz, LSP, 612-722-6377, emakarewicz@landstewardshipproject.org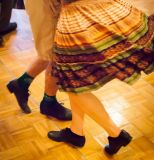 Swing your partner round and round! Join LSP in celebrating the spring for a Barn Dance on April 27 from 5-9pm at the Anderson Center Barn in Red Wing, MN. This family-friendly event will feature live music for a called square dance and a two-step session DJed with classic country hits.
Don't know how to do these dances? Don't worry - instructions will be provided – everyone is welcome! We'll also have a silent auction featuring local businesses and artists.
There is a suggested $10-$20 donation for entry.
For more information, contact the Land Stewardship Project's Elizabeth Makarewicz at 612-722-6377 or via e-mail.
Registration Form
This event has already taken place.