There's no wrong place to start! Pick something that resonates with your family, and start there.
Click on the picture to open it for larger view: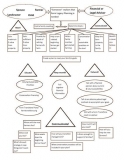 Key to the diagram:
Rectangular boxes contain things that need to be discussed within families.

Ovals show resources that can help with your farm transition: human resources and online and print sources of information.

The triangles show things to especially attend to throughout your farm transition process. Failure to do them can slow down or stop the process.