• Episode 247: Hannah Bernhardt and Jason Misik couldn't afford prime farmland brimming with infrastructure. But sweat equity and soil health are helping them transform a marginal piece of ground far from Corn Country.
• Episode 246: Beginning farmer Zach Knutson talks to Alex Romano about how rotational grazing allows him to manage land, time, and finances more efficiently.
• Episode 222: Renter Mark Erickson shows landowners the widespread benefits of converting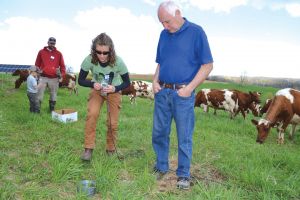 cropland to pasture.
• Episode 220: Farmers Kent Solberg and Jim Wulf talk about the economic and ecological advantages of integrating crops and livestock.
• Episode 212: Think the only path to profitability is through maximum productivity? Top dairy graziers are proving otherwise.
• Episode 207: How a visiting student's critique set the Jon Luhman farm on a path toward profitably integrating crops, pasture and livestock.
• Episode 201: Kaleb Anderson's evolving view of livestock allows him to make a direct connection between profitability and soil health.

• Episode 197: A row-cropped field is converted back to prairie by Jessica and Shane Blair, benefiting the environment and livestock.

• Episode 196: Farmer Rory Beyer and soil health expert Justin Morris talk about how livestock, cover crops and pastures are the "rock stars" of building soil health.
• Episode 192: Dairy farmer Olaf Haugen finds more microbes in the soil means more money in the bank.
• Episode 187: Allen Williams on soil health, livestock and "compounding, cascading effects."

• Episode 183: Seeing is believing: soil conservationist Jeff Duchene describes how a rain simulator shows the value of continuous living cover on farm fields.
• Episode 121: How farmers, scientists and conservationists in North Dakota have teamed up to revolutionize the relationship between ag and soil health.

• Episode 50: Art Thicke talks about how building healthy soil on his dairy operation has increased the resiliency of his land as well as the farm's bottom line.