'Graze On' Series
Check out this short series of "Graze On" videos featuring Minnesota farmers talking about why they are practicing regenerative grazing:
#1 Melissa & Chad Crowley
#2 Olaf Haugen
#3 Jon & Jared Luhman
#4 Daryn McGowan
#5 Rachelle & Jordan Meyer
#6 Mike Steinfeldt
#7 Richard & Carolyn Young
Other Grazing Videos
• Grazing & Soil Structure: The Connection Between Cattle & Water Infiltration
Mark Erickson of Grant County in west-central Minnesota shares his farming experience going from conventional corn and soybean production to grass-based beef on rented land.
• Your Biggest Asset is Your Soil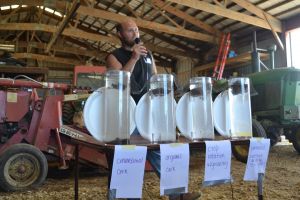 Southeastern Minnesota farmer Dan Miller describes how integrating livestock into his family's operation via grazing allows them to protect and build their farm's most critical asset: the soil.
• The Slake Test Doesn't Lie: Farming, Flexibility & Soil Health
How dairy graziers Adam and Amanda Bedtke's ability to remain flexible and their focus on soil health have generated economic and quality-of-life benefits.
• Slake Test Shows the Power of Soil Health on the Rupprecht Farm
For years, Land Stewardship Project members Mike and Jennifer Rupprecht have been utilizing managed rotational grazing and diverse crop rotations to build the health of the soil on their southeastern Minnesota farm. This time-lapse video of a slake test shows that it's paying off in terms of soil that has excellent aggregate structure when exposed to water.
• How Robb Miller Uses Triticale as Soil Armor & Cattle Feed
Southeastern Minnesota dairy farmer Robb Miller describes how he uses triticale to build soil health and as a source of cattle feed.
• Farmers Talk About Climate Change
Farmers talk about the challenges posed by climate change and how building soil health can help make their operations more resilient.
• Grazing Cover Crops
Kaleb Anderson describes how he uses the grazing of cover crops to heal and build soil health, and generate income.