In west-central Minnesota, the Chippewa 10% Project is an extensive partnership working to achieve an overall goal of 10 percent more continuous living cover in the watershed, particularly in areas at higher risk for runoff. Such a strategy would make it possible to reach water quality goals and standards for the entire 1.3 million-acre watershed. Continuous living cover, which can mean perennials or a careful overlapping of annual crops and cover crops, is a proven way to reduce runoff into our waters while improving the health of our soils. We know that building soil health can attain significant improvement in water quality and that biologically active soil is the key to profitable, sustainable farms in Minnesota and elsewhere.
The Chippewa River watershed covers most of Pope, Swift and Chippewa counties, and splashes over into five others in the region. It is the largest tributary to the Minnesota River — one of the most polluted waterways in the Upper Midwest. With the data collected from the Chippewa River Watershed Project's monitoring of water quality in the watershed, we are in a unique position to see the effects of our land use over the years and show that continuous living cover has profound positive impacts on water quality.
We start with the farmers—with 74 percent of the watershed acres in agriculture, we know that they are instrumental to landscape-level change.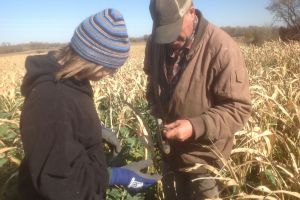 We engage them via one-to-one meetings, where we learn about their relationship to the land, conservation values, long-term goals and how we might help them achieve those goals.
It's clear water quality goals could be met by replacing a majority of annual row crops with tallgrass prairie, but that would spell economic disaster for local communities. Instead, we focus on a variety of practices centered around working lands conservation. We seek opportunities to convert row-cropped land into perennial pasture, following up with improved pasture and grazing management for healthier soil and better feed production. We also focus on diversifying crop rotations to include perennials or short season annuals with cover crops. Cover crops are utilized to achieve different goals, ranging from soil building and livestock forage production to weed suppression and nitrogen sequestration.
We also engage with as many people in the watershed as possible, working with recreational and non-operating landowners, public and private agencies and the greater community. We know that healthy soil and clean water benefits the entire community, producing everything from more financially stable farms to a strong tourism and outdoor recreation economy.
Finally, we rely on science, with cutting edge research and modeling that helps us to target regions of the watershed, link conservation practices directly to farm profitability, create important decision making tools and engage farmers more deeply with their land via maps and interactive modeling tools.