The first step to rebuilding soil is to reduce or eliminate tillage.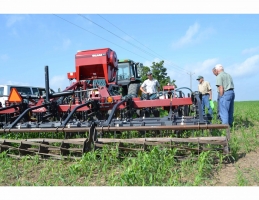 Whether organic or conventional, new technologies are available to help all farmers lessen their impact on the soil. The benefits of leaving soil in place includes erosion prevention, cost savings on fuel and equipment use, alleviation of compaction, better water infiltration, and leaving behind residual plant matter to armor the soil's surface. Without disturbance, the soil can start to rebuild structure and tilth, conserve organic matter, and become a habitat for larger soil organisms, like earthworms. To address the initial learning curve and help farmers transition successfully, check out the resources below.
No-till Fact Sheets
• No-till for Beginners
• No-till & Fertilizer
• No-till Planter Set-up
Got No-till Questions?
Have questions about getting started with no-till or do you want to tweak your current no-till system? Give LSP a call at 507-523-3366.
Field Days
Check LSP's online calendar for details on the latest field days and workshops.
No-till Blogs & Stories
• Blog: Midwestern Farms Can Counter Climate Change (3/9/20)
• LSP Podcast: How farmers Dawn & Grant Breitkreutz are building soil carbon & bolstering profitability. (2/20/20)
• Agri News Article: Challenges in karst country farming (8/1/19)
• No-Till Farmer Article: On-Farm Research Validates Benefits of No-Till, Cover Crops (7/11/19)
• Agri-View Article: Innovation increases profits, soil health (4/8/19)
• Blog: 'Caring for the Land' with Cover Crops, the Roller-Crimper & Spring CC Seeding (2/20/19)
• Blog: Farmer Loran Steinlage Shares his Soil Health Story of how Trying Times Call for Building Soil Health (12/14/17)