LSP's Farmer-to-Farmer Soil Health Consultancy Service
Sometimes we all need a bit of help and coaching…
A growing number of Midwestern crop and livestock farmers are interested in maximizing soil health in ways that increase soil organic matter and biological activity, improve water infiltration, stop erosion, sink carbon into the soil, reduce input expenses and increase profits and yields.
A short conversation with an experienced farmer and getting your questions answered either in person or on the telephone can save a lot of time and money. It can help your decision-making process and clarify your next steps in making the on-farm changes you want to make.
Can we re-build the natural productivity of the soil, and in doing so, improve the viability of our farms?
The Land Stewardship Project has recruited and retained eight skilled southeastern Minnesota farmers devoted to soil health, and who are willing to share their experience. These farmer-consultants' time is valuable. They'll be paid for their time—both on the telephone and in personal visits. Of course, their own farms and families are their top priority. But when available, they're ready to help others take the next step in building soil health.
How does this work? Want to do a consultation on the phone? Yes, that's a possibility. Want to have the consultation on your farm? For sure.
Want to meet the farmer-consultant at the local café? That can work. Want to visit the farmer-consultant's farm? Yes, that can be set-up too.
Getting Started
To request a farmer-to-farmer consultation, contact Liana Nichols at LSP's office in Lewiston, Minn., at 507-523-3366 or via e-mail. Let us know what you are hoping to learn from one of the consulting farmers and provide us some background on your farming operation. Then we'll match you with a consulting farmer who can give you the information and experience you're looking for.
2020 Fees
• Phone call: $40 per hour (no charge for initial 20-minute call).
• Farm visit or café meeting: $40 per hour (1- to 2-hour visit recommended)
Who are the Consulting Farmers?
Jon Luhman, Goodhue, Minn.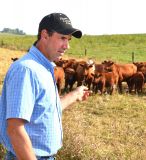 Jon Luhman has more than 20 years experience with management-intensive rotational grazing of both beef and dairy cattle. Luhman focuses on building soil with livestock, raises beef on an all-forage diet, grazes multi-species cover crops deep into fall/winter, and also raises certified organic crops. More information is here.
Tom Cotter, Austin, Minn.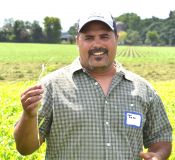 Tom Cotter raises beef cattle, row crops, and sweet corn. He is a "Cover Crop Champion" with nine years of intensive cover cropping experience (plus another dozen years of "playing around" with cover crops). He is working on interseeding cover crops into corn, cover crop grazing, and transitioning some land to organic. More information is here.
Daryn McGowan, Hayfield, Minn.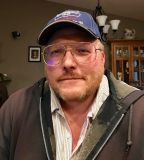 Daryn McGowan has nearly two decades of experience rotational grazing dairy cattle. Through grazing, he has reduced fed grains, feed costs and veterinary bills, all while cutting fuel costs and improving soil through no-till planting. More information is here.
Myron Sylling, Spring Grove, Minn.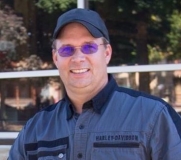 Myron Sylling raises corn, soybeans, and cover crops. He has 20 years of no-till experience, plus seven years of cover cropping experience. Through these practices, he has increased organic matter and yield without additional fertilizer expense. Sylling is the author of LSP's no-till and cover crop fact sheets series. More information is here.
Mike & Jennifer Rupprecht, Lewiston, Minn.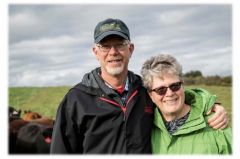 Mike and Jennifer Rupprecht have nearly 30 years of experience with intensive rotational grazing, and raise 100 percent grass-fed beef and organic free-range chicken sold direct to customers. They also raise organic oats, corn, and soybeans. More information is here.
Rich & Carolyn Young, Plainview, Minn.


Rich and Carolyn Young have been grazing dairy cows since the early 1990s and transitioned to organic in 2007. The Youngs use grazing to build soil and increase profitability. They have incorporated sorghum sudangrass into their system as drought insurance.

Melissa & Chad Crowley, La Crescent, Minn.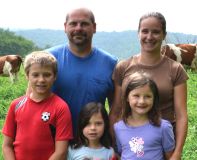 Melissa and Chad Crowley have been doing managed rotational dairy grazing for 16 years. They use no fertilizer, pesticides, or tillage. The Crowleys use strategic rest periods to improve forage production, water infiltration, and biological activity in their soils. More information is here.
Martin Larsen, Byron, Minn.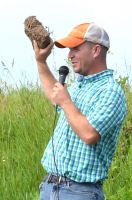 Martin Larsen has five years of no-till and cover cropping experience. This combination has produced excellent soil health results on his farm. He also works closely with farmers through his position at the Olmsted County Soil and Water Conservation District. More information is here.