Rural communities benefit when family farms are strong. Family farms support other local businesses and infrastructure, schools and churches, arts and democratic life. And rural communities have great capacity to support beginning farmers. Getting started in agriculture is not easy, but with the support of neighbors, experienced farmers and local leaders, it is a viable possibility.
In the past several years, Land Stewardship Project leaders have been using theater, storytelling and organizing committees to get their communities talking the future of agriculture, farm transitions and supporting beginning farmers.
Look Who's Knockin'
From 2011-2013, LSP brought Look Who's Knockin,' a play by LSP organizer Doug Nopar, to over 20 communities and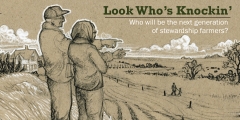 1,500 people across Minnesota and Wisconsin. The play is the story of Nettie and Gerald, farmers who are wrestling with the future of their farm as they consider retirement. Their example draws out the many nuances of farm transitions—from the realities of finances and letting go of the farm, to the deep desire to leave a legacy that allows a new farm family to steward that land.
Storytelling
The Plainview Land Access Organizing Committee has hosted two storytelling events where community elders and young farmers shared their farming values and stories of getting on the land. Using stories, music, food, multimedia, painting and photos, people of all ages and backgrounds shared their passion, experience, and connection to the land. Recordings of these stories can be found here.
Local Organizing Committees
A group of Plainview, Minn., residents have been working to make their community a good place for beginning farmers since 2012. They formed the Plainview Land Access Organizing Committee following a showing and discussion of the play Look Who's Knockin.' Since then, these leaders have held local storytelling events, talked to beginning and retiring farmers to understand what they are facing, started the Farm Transition Coaches Service, and shaped the Farm Transitions Toolkit. They continue to work creatively to make the Plainview area a place where young farmers can get started and retiring farmers are supported.
To learn more about using theater, art or storytelling to talk about land transition issues, or to learn about organizing a local committee, contact LSP's Karen Stettler at 507-523-3366 or stettler@landstewardshipproject.org.