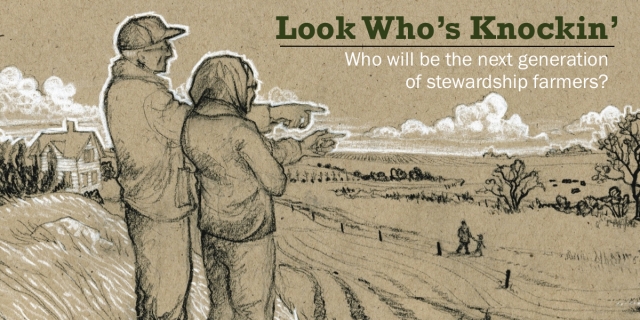 Look Who's Knockin' is a one-act Land Stewardship Project (LSP) play that portrays the moral dilemma posed by wanting, on one hand, to get top dollar for selling or renting one's land for the sake of personal economic security and, on the other, wanting to help the next generation of farmers get started farming for the sake of the community.
Created out of numerous interviews and stories of both beginning and retiring farmers in recent years, the play uses humor, storytelling and the common everyday tension in an elderly farm couple's relationship to prompt personal reflection and discussion within the audience. The play was written by LSP organizer Doug Nopar.
Two upcoming performances are scheduled for March 22nd and March 23rd at St. Catherine University Recital Hall (2004 Randolph Avenue, St. Paul). Both performances begin at 7 p.m., and will be followed by an audience discussion centered on the issues raised by the play.
The cost is $10, payable at the door. For more information, contact LSP's Amy Bacigalupo at 320-269-2105.
To RSVP to either performance, please follow the links below.
---
Upcoming Performances:
RSVP HERE for the March 22nd performance and community discussion at St. Kate's in St. Paul, MN
RSVP HERE for the March 23rd performance and community discussion at St. Kate's in St. Paul, MN