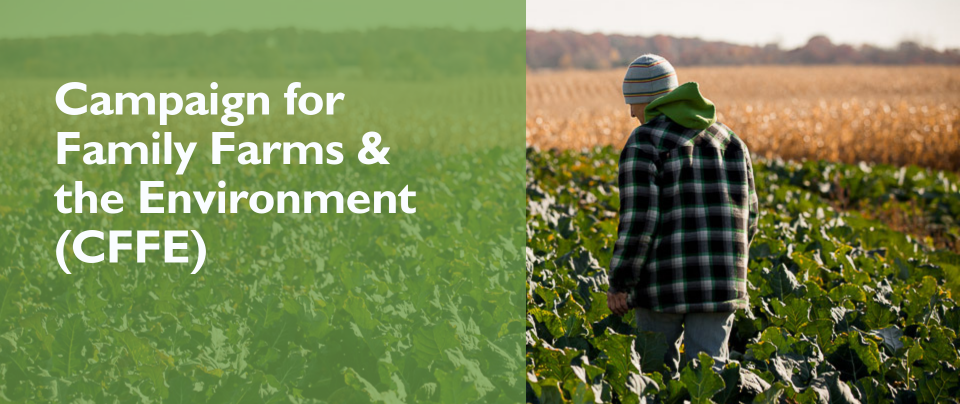 The Campaign for Family Farms and the Environment (CFFE) consists of four Midwestern state-based membership organizations and two national organizations fighting against corporate factory farms. CFFE works to oppose the national, state and local policies propping up factory farms and driving out independent family farmers and hollowing out our rural communities, as well as polluting our land, water, and air. The Campaign helps citizens to organize and defend local control, preserve the use of public resources for the public good, and apply more democratic decision-making.
CFFE is composed of the Missouri Rural Crisis Center, Iowa Citizens for Community Improvement, Dakota Rural Action, the Land Stewardship Project, Food & Water Watch, and the Institute for Agriculture and Trade Policy.
In the writing of the 2018 Farm Bill, CFFE organized to eliminate the use of Environmental Quality Incentives Program (EQIP) funds for factory farms and to eliminate the use of USDA guaranteed loans for new or expanded factory farms. In 2019, CFFE is focused on fighting state policies that prop up the factory farm system in Minnesota, Iowa, Missouri, and South Dakota.
More Information
For more information on LSP's involvement with CFFE, contact organizer Barb Sogn-Frank at 612-722-6377 or via e-mail.
CFFE Statements
• July 26, 2018: CFFE statement on President Trump's visit to Iowa
• May 9, 2018: CFFE urges Representatives to reject Farm Bill
• April 12, 2018: CFFE letter on EQIP and the Farm Bill