SAINT PAUL, Minn. — Two busloads of citizens from southeast Minnesota traveled to the Minnesota state Capitol Tuesday to call for legislation that helps local communities deal with the onslaught of the frac sand mining industry in the region. The citizens, who were from Wabasha, Winona, Fillmore, Goodhue, Houston and Olmsted counties, said legislation creating a moratorium and launching an extensive examination of the environmental, health and economic impacts of the industry needs to be passed during this legislative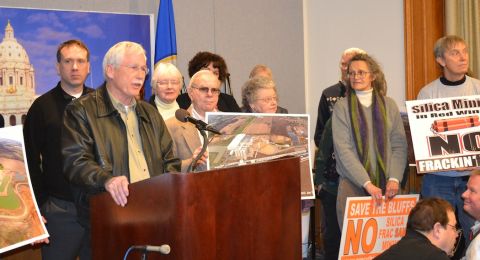 session.
"Mining supporters argue that local government can resolve all the issues without state government intervention. They argue that state entry into the silica sand mining debate would only duplicate what local government is already doing. They're wrong," said David Williams, a supervisor in Fillmore County's Preble Township. "There are substantial reasons why state involvement is needed."
Williams and other local government officials spoke during a Capitol press conference and during a special joint hearing of the Senate Environment and Energy Policy Committee and House Energy Policy Committee. The 100-seat committee room was full, with another 100 people in an overflow room watching the hearing on monitors. The overwhelming majority of tesitifiers talked about their concerns with the frac sand industry and at least 20 who came prepared to testify could not because of lack of time.
Locally elected officials, citizens and grassroots groups, including the Land Stewardship Project (LSP), Save Our Bluffs, Houston County Protectors and more, are calling for a statewide moratorium on frac sand mining and processing to allow for an extensive environmental study of the industry and the development of strong state-level pollution regulations. These regulations would be in addition to the local land use powers that local governments currently have.
Local officials testifying on Tuesday made it clear that townships, cities and counties do not have the resources needed to regulate the environmental and health-related problems associated with frac sand mining and processing.
Lynn Schoen, a member of Wabasha's city council, said strong state-level environmental and health regulation of the frac sand industry could work hand-in-hand with strong local control.
"We need a state permitting process in addition to our local conditional use permit," said Schoen.
Increasingly, local officials are calling on the state to impose a moratorium on the industry so that a Generic Environmental Impact Statement study can be completed. The City of Red Wing and Houston County Board of Commissioners are two of the latest units of government to issue official statements calling for a moratorium and study.
"There are questions about the frac sand industry that can only be answered through a regional study," said Kelley Stanage, a member of the Houston County Frac Sand Study Committee.
Vince Ready, an LSP member who raises livestock in Winona County's Saratoga Township, said that his community is being targeted for seven proposed sand mines, as well as a processing facility that, if built, would be the largest one in the country. Ready said his community is home to numerous productive farms, including several Amish operations.
"We need to act now or our environment will be changed forever," he said. "What was a safe, scenic farming area will become an industrial mining area."
Pat Popple, who lives in Chippewa Falls, Wis., said Minnesota needs to be proactive on the issue or it will be dealing with the same environmental and health problems her community is struggling with.
"It creates a heavy industrial footprint throughout the region," she said. "This is heavy industrial mining."
LSP organizer Bobby King said that when factory farms invaded the state decades ago, lack of state regulation and information resulted in people suffering from the resulting negative environmental and health impacts after the fact. A moratorium on frac sand mining would provide the opportunity to study the industry thoroughly before it's too late.
"The state Legislature must act now before the frac sand industry harms our rural communities like it has done in western Wisconsin," said King.
Bills related to the regulation of frac sand mining are expected to be proposed within the next week and taken up at the Feb. 26 meeting of the Senate Environment and Energy Policy Committee.
-30-
CONTACT: Bobby King, LSP, 612-722-6377