LEWISTON, Minn. — What combination of annual and year-round plants can be grown to significantly improve soil health, water retention and biodiversity without sacrificing the economic needs of a farmer? That is one of the major questions that will be discussed during a bus tour originating from southern Minnesota on Tuesday, July 9. Space is limited and participants must reserve a spot by contacting the Land Stewardship Project's Caroline van Schaik at caroline@landstewardshipproject.org or 507-523-3366.
Featured during the tour will be research conducted by Iowa State University as part of the Science-based Trials of Row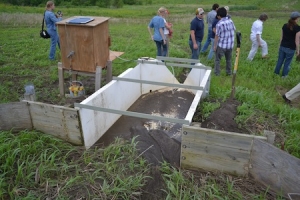 Crops Integrated with Prairies (STRIPs) project (www.nrem.iastate.edu/research/STRIPs/index.php). STRIPs researchers are experimenting with mingling bands of permanent vegetation with annual crops such as soybeans and corn at central Iowa's Neal Smith National Wildlife Refuge. Field treatments were established beginning in the fall of 2006 and findings to date indicate that bands of grass-forbs taking up no more than 10 percent of a cropped field can cut soil erosion by as much as 95 percent, among other benefits.
The Land Stewardship Project is organizing the daylong field trip so that farmers and landowners can see firsthand the impacts that perennial plants can have on the erosion-prone, karst-defined landscape of southern Minnesota's Driftless Region. For more on LSP's vision and work in the region, visit http://landstewardshipproject.org/stewardshipfood/foodsystemslandstewardship/rootriverwatershed.
-30-
CONTACT: Caroline van Schaik, LSP, 507-523-3366, caroline@landstewardshipproject.org