WRENSHALL, Minn. — Building healthy, resilient soils on farmland in the Lake Superior region will be the focus of a special field day Saturday, Sept. 21, from 10 a.m. to 1 p.m., at Northern Harvest Farm near Wrenshall. The charge for this Lake Superior Sustainable Farming Association field day is $30 for the public; there is no charge for Lake Superior Farm Beginnings students and graduates. For more information, including directions, contact Cree Bradley at 218-834-0846 or creeb@landstewardshipproject.org.
This field day is for beginning farmers and anyone else who wants to learn the basics of building fertile, resilient soil that can produce food long into the future. Topics covered include working with contours, drainage issues, soil tilth, managing residues, protecting soil from erosion, soil compaction, soil amendments and cover crops.
Participants will see firsthand how the owners of Northern Harvest Farm, Rick and Karola Dalen, have over the past seven years built up productive, resilient soils on their Community Supported Agriculture vegetable operation. The Dalens launched their farming operation after taking the Land Stewardship Project's Farm Beginnings course in southern Minnesota.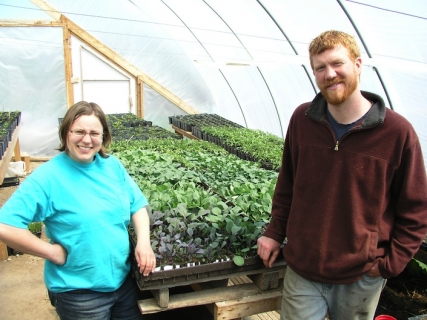 One of the things the Dalens learned while enrolled in the Farm Beginnings course was the importance of building healthy soils as a long-term investment in the success of a farming operation. This can be particularly challenging on worn-out land in the Lake Superior region.
"There are lots of things I know now that I wish I knew when we first started out," said Rick. "I can't claim to be an expert, but I think I have some things I could share that would be helpful to people who are looking at soil building and getting land rehabilitated and ready for crop production."
In 2013, the Farm Beginnings program is marking its 16th year of providing firsthand training in low-cost, sustainable methods of farming. The course is tailor-made for people of all ages just getting started in farming, as well as established farmers looking to make changes in their operations. Farm Beginnings participants learn goal setting, financial planning, enterprise planning, marketing and innovative production techniques.
Classes are led by farmers and other agricultural professionals from the area. The classes, which meet approximately twice-a-month, run until April 2014, followed by an on-farm education component that includes farm tours and skills sessions.
Over the years, more than 600 people have graduated from the Minnesota-region Farm Beginnings program. Farm Beginnings graduates are involved in a wide-range of agricultural systems, including grass-based livestock, crops and Community Supported Agriculture, and other enterprises.
Through a partnership between the Land Stewardship Project and the Lake Superior Sustainable Farming Association, the Farm Beginnings course is being offered in Esko, Minn., beginning this fall. The deadline for applications is Oct. 15. For more information and to apply, see www.farmbeginnings.org or contact Cree Bradley at 218-834-0846 or creeb@landstewardshipproject.org.
-30-