Owners of farmland who are looking to transition their enterprise to the next generation of farmers can now turn to the Farm Transitions Toolkit, a comprehensive resource released today by the Land Stewardship Project (LSP) and the Minnesota Institute for Sustainable Agriculture (MISA).
"Whether you are a farmer, an absentee landowner who rents or leases your land to a farmer or simply someone with farmland in your family, the Toolkit provides a starting point for the important process of transitioning it to the next generation," said Karen Stettler, an organizer with LSP's Farm Beginnings program. "The need for such a comprehensive resource is more critical than ever. With the percentage of older farmers on the rise, it is projected in the next 20 years 70 percent of ranchland and farmland will change hands."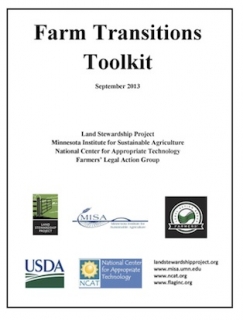 The Toolkit contains resources, links to services and practical calculation tables to help landowners establish a commonsense plan. It also features user-friendly resources on the economic, legal, governmental, agronomic, ecological and even social issues that must be considered in order to ensure a successful farm transition. It is rounded out with thought-provoking profiles of farmers who are in various stages of transitioning their enterprises to the next generation.
"The target audience for the Toolkit is those people who want to pass their farm on in a way that supports healthy rural communities, strong local economies and sustainable land stewardship," said MISA Executive Director Helene Murray. "Too often retiring farmers or people who find themselves in possession of family land feel pressured to make decisions that go against their own values. The Toolkit can help people align those values with the decisions they make as far as their land's future is concerned."
An online version of the Toolkit is at www.landstewardshipproject.org/farmtransitionstoolkit; paper versions can be purchased by calling 800-909-MISA (6472).
This Farm Transitions Toolkit was developed through a collaborative project involving LSP, MISA, Farmers' Legal Action Group and ATTRA. Its development was guided by individuals representing a number of organizations. This project was supported by the Beginning Farmer and Rancher Development Program of the National Institute of Food and Agriculture, USDA, Grant # 2010-03107. To find more resources and programs for beginning farmers and ranchers, visit www.Start2Farm.gov, a component of the Beginning Farmer and Rancher Development Program.
-30-