Cattle Producers Vote Down Proposed Doubling of Checkoff by Wide Margin
MINNEAPOLIS, Minn. — The Minnesota Department of Agriculture (MDA) announced April 1 the results of the proposed referendum by the Minnesota Beef Research and Promotion Council that sought to increase the existing beef checkoff by an additional $1 per head. Sixty-three percent (963) of the 1,525 voting producers voted against the referendum, with just 37 percent (562) voting in favor.
"This is a pretty decisive vote," said Adam Warthesen, an organizer with the Land Stewardship Project. "We assumed doubling the checkoff that beef producers would be required to pay was going to be unpopular and the vote clearly shows it's not what cattle producers want."
Passage of the referendum would have increased what Minnesota cattle producers are required to pay through the beef checkoff by a full $1 — an expected collection of nearly $700,000 per year. This would have been in addition to the mandatory $1 per head checkoff currently collected on cattle sold in the state.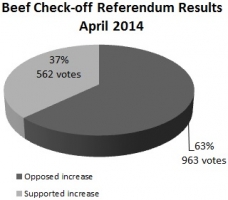 While the Land Stewardship Project took no formal position on the proposed referendum, during a December 2013 MDA listening session the organization successfully advocated for extending the timeline for producers to request ballots. LSP also conducted significant outreach in the following months to 18,000 Minnesota cattle producers urging them to vote on the proposed referendum.
"Like many cattle producers I had really heard nothing of this referendum and proposed beef checkoff increase until late December," said Jim Joens, a cattle and crop producer from Wilmont, Minn. "The outreach the Land Stewardship Project did and informational letters they sent out was probably the most concrete way many farmers found out about this referendum and how to get a ballot."
The rejection by Minnesota cattle producers to shoulder another $1 per head in checkoff remittance puts to rest the issue for at least a full year. According to Minnesota Administrative Rules, if a referendum fails the MDA commissioner is prohibited from issuing another referendum on any promotional order on the same agricultural commodity until one year has elapsed.
"It's important in any kind of election or referendum that people who are going to be affected by the outcome have a say," said Joens. "If you ask me, I think every cattle producer in our state should be sent out a ballot and verification form on referendum like this. It should not be on the producer to first find out a referendum is happening, and then go through a process to request a ballot and finally vote. It should not be this hard."
-30-