PLAINVIEW, Minn. — Democracy, stewardship of the land and protecting the health and well-being of local communities were the focus of a special Land Stewardship Project meeting on Thursday, Nov. 20, at the American Legion Hall in Plainview. Nearly 90 people from across southeastern Minnesota participated in the meeting, which included updates on the ongoing fight against frac sand mining in the region, as well as a proposed international trade agreement that has local implications.
Reports on recent victories against the frac sand industry and ongoing efforts by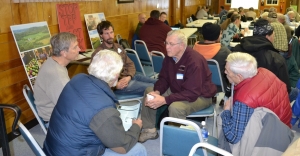 local citizens to stop frac sand development in their communities drew applause from the crowd. Vince Ready, a resident of Saratoga Township in Winona County, told of the successful fight to stop a major sand processing plant in nearby Saint Charles. Now, he and other LSP members in Saratoga Township, where proposed mines would generate up to 600 truck trips per mine, per day, are working to pass township ordinances that would stop frac sand development. They have already gathered over 100 signatures from township residents on a petition opposing frac sand development and are nearing 50 percent of the number of registered voters in the township.
"I'm a citizen who's not going away, and my neighbors aren't going away either," Ready said.
The meeting also addressed next steps in state-level efforts to protect communities from the frac sand industry. Kelley Stanage, a rural Houston County resident and citizen-member of the state Silica Sand Rulemaking Advisory Panel, described serious shortcomings in the Minnesota Pollution Control Agency's (MPCA) current proposal for new air quality regulations affecting the silica sand mining industry.
"The thresholds proposed by the MPCA for silica sand air quality regulations would allow Minnesota frac sand operators to produce three times the volume of sand allowed annually at Wisconsin facilities before any meaningful regulation kicks in," she said. "This is woefully inadequate to protect Minnesotans from the damage being inflicted on residents in Wisconsin. Minnesotans deserve better from our state agencies."
Meeting attendees signed on to comments to be submitted to MPCA Commissioner John Linc Stine calling for the new silica sand air quality regulations to require individual air quality permits for any proposed frac sand facility (regardless of its size), as well as monitoring to be done by the MPCA but paid for by the facility. LSP is also calling for aggressive enforcement and strong penalties for silica sand air quality violations, including the ability to shut down facilities for violations.
The Plainview meeting also addressed strong citizen opposition to the proposed Trans-Pacific Partnership (TPP) Trade Agreement and attempts to provide President Barack Obama with fast track authority to pass it.
"If you're concerned about frac sand mining and development, then you should be concerned about TPP and fast track authority," said LSP organizer and Plainview native Kaitlyn O'Connor.
The TPP, a proposed agreement involving the U.S. and 11 other Pacific Rim nations, is being negotiated in secret and would grant unwarranted power to multi-national corporations to undermine local democracy, according to O'Connor. It would allow corporations to sue local governments over laws perceived to impede their "expected future profits." Local restrictions on frac sand mining, for example, could be vulnerable to lawsuits brought by international companies if TPP goes into effect in its current form.
"People traveled to this meeting from throughout Houston, Fillmore, Winona, Olmsted, Goodhue, and Wabasha counties because of our deep concern for stewardship of the land and the well-being of our communities," said Houston County resident Marilyn Frauenkron Bayer. "We are committed to working at the local, state, national and even international level to put the rights of people and the land above corporate profit."
-30-