New Farm Bill Would Play Key
Role in CSP's Ability to
Support Conservation on
Working Lands in the State
MINNEAPOLIS, Minn. — Minnesota farmers have consistently been the biggest users of one of America's most significant farm conservation programs, according to a new analysis released today by the Land Stewardship Project. The analysis concludes that since 2009 the Conservation Stewardship Program (CSP) has helped farmers produce real environmental benefits on working farms, but those benefits are in danger of being lost because of cuts to conservation proposed by Congress.
"This report further shows what we've known for awhile—Minnesota farmers are using CSP to do more conservation on the land," said Don Baloun, Minnesota State Conservationist for the USDA Natural Resources Conservation Service (NRCS). NRCS administers the Conservation Stewardship Program through USDA service centers spread across the state.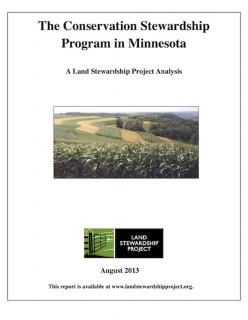 "Conservation on working land is an area we really need to focus on in agriculture and the strong demand we are seeing for CSP is good for the land and our rural communities and verifies that Minnesota farmers recognize there is room for NRCS conservation programs on their farms," added Baloun.
CSP was created by drafters of the 2008 Farm Bill and has been available to farmers since 2009. It represents a major departure from traditional federal farm programs, which pay farmers to raise a handful of commodity crops while penalizing diverse farming systems that are good for the environment. CSP rewards farmers for current conservation practices on working farmland, as well as additional stewardship measures they agree to adopt.
Since 2009, CSP has become the nation's largest farm conservation program, with over 50 million acres enrolled in contracts. That's equivalent to the size of the entire state of Nebraska.
LSP's examination of CSP contract data shows that Minnesota farmers have been the biggest users of the program every year that it's been offered, both in terms of number of contracts—3,200—and dollars obligated to farmers who hold those contracts—$280 million. In terms of number of active CSP contracts, the next closest state is Missouri, with 3,084.
Interviews with Minnesota farmers show that they are using their CSP contracts to protect water, soil and wildlife habitat using everything from diverse crop rotations and rotational grazing to wildlife-friendly implements and more targeted use of chemicals.
However, the LSP analysis found that use of CSP varies widely from county-to-county. The state's top CSP county, Morrison, has over 200 active CSP contracts, while other agricultural counties have none.
LSP's analysis makes several recommendations for maintaining and strengthening CSP, including making sure that a new Farm Bill allocates enough resources to enroll 12.8 million acres of CSP contracts for the five-year life of the law, encouraging NRCS and other federal and local government agencies to work together to maximize CSP use in every county, and clarifying the sign-up and scoring system that determines who gets contracts. The development of the next five-year Farm Bill is currently stalled in Congress.
"CSP has emerged as a critical program for putting real conservation and real dollars on Minnesota's working farms," said Adam Warthesen, an LSP Policy organizer and author of the report. "The drafters of a new Farm Bill have a prime opportunity to not only maintain this exciting program, but make it stronger and more effective than ever."
A copy of The Conservation Program in Minnesota: A Land Stewardship Project Analysis is available here.
-30-