The Chippewa 10% Project frames everything around soil health. A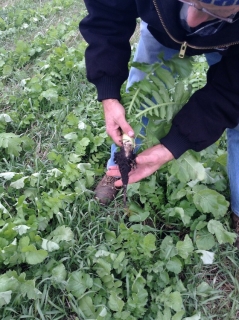 biologically active soil is what connects good stewardship to farm profitability and what links conservation to water quality. It is the foundation of farm resilience and our ability to weather climate change.
Every farmer or rancher involved in one of the Chippewa 10% Project's networks has the option to start monitoring the change in biological activity in their soil via the Haney Soil Test. After the samples are taken, we arrange a meeting with a soil scientist to discuss the outcomes, to answer questions, and to "talk shop" about the following year.
This monitoring method provides a different frame of reference for understanding soil health, soil building, nutrient needs and availability, as well as nutrient and water cycling. Farmers in our networks are on the cutting edge of helping further the understanding of the on-farm applicability of this new method of collecting the kind of information not available in a traditional soil test.
Below are some resources to learn more about how to build the kind of healthy soil that produces profits, resilient farms and clean water:
• Soil Health, Water & Climate Change: A Pocket Guide to What You Need to Know
• Interactive USDA-ARS Cover Crop "Cocktail" Chart
• Green Cover Seed SmartMix cover crop tool
• LSP "Soil Health, Profits & Resiliency" web page
• Land Stewardship Letter special report on Burleigh County's Soil Health Team
• Managing Cover Crops Profitably, 3rd Edition
• Managing Grazing's Effects on Soil Quality and Structure