In 2020, the Land Stewardship Project's Bridge to Soil Health Program commissioned Minnesota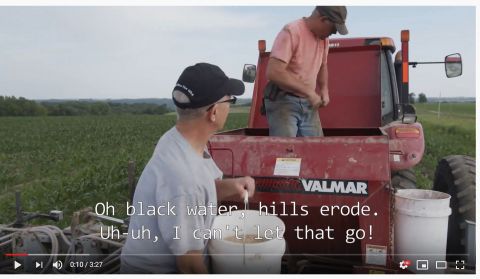 musician Bret Hesla to write and
perform a couple of music videos that sing the praises of building soil health. He performed the music with the group Six Feet Deep, and the video editing and production was done by Kobi Dansingburg. The video was shot on location at several farms in southeastern Minnesota. LSP hopes that these videos can further build the energy and community that's been growing around soil health in the Upper Midwest.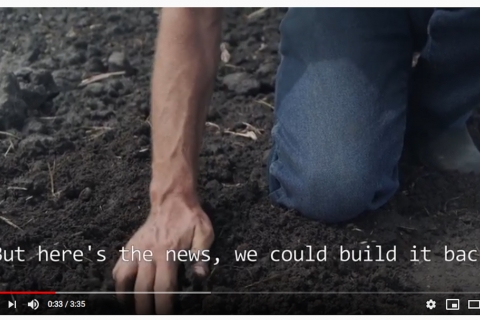 View the music videos here:
Lyrics
Music Credits
"Bret Hesla and Six Feet Deep"
Back to Soil:
Bret Hesla — lead vocals, rhythm guitar
Dan Chouinard — piano
Dave Michel — bass, vocals
Joe Silberschmidt — drums
Tim Gustafson — lead guitar
Rebekah Fergus — vocals
Martha Schwen Bardwell — vocals
Linda Breitag — vocals
Ray Makeever — vocals
Larry Dittberner — vocals
Bob Stuber —vocals
Production Services Matthew Zimmerman/Control Z
Words and music by Bret Hesla. Written on commission for Land Stewardship Project
© 2020 Bret Hesla. All rights reserved. Use with permission, please. Contact: e-mail
Got Cover Crops:
Bret Hesla — lead vocals, rhythm guitar, harmonica
Dan Chouinard — piano
Dave Michel — bass, vocals
Joe Silberschmidt — drums
Tim Gustafson — lead guitar
Rebekah Fergus — vocals
Martha Schwen Bardwell — vocals
Linda Breitag — vocals
Ray Makeever — vocals
Larry Dittberner — vocals
Bob Stuber — vocals
Production Services Matthew Zimmerman/Control Z
Words and music by Bret Hesla. Written on commission for Land Stewardship Project
© 2020 Bret Hesla. All rights reserved. Use with permission, please. Contact: e-mail