Tallgrass Prairie BioBlitz 2019,
Saturday, June 22, at Big Stone State Park and environs, Ortonville, Minn.
Contact: Robin Moore, e-mail, 320-269-2105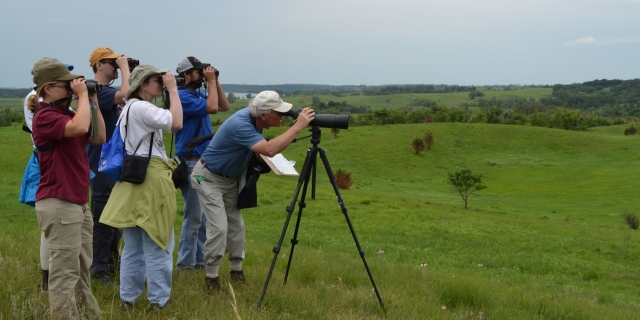 Ready to learn more about prairie species in your neighborhood?
Are you a prairie enthusiast ready to share your knowledge and passion with others? Looking for a fun family day that also supports public lands? Join us for a BioBlitz in and around Big Stone state park in western Minnesota!
This year, in partnership with Clean Up the River Environment (CURE), US Fish and Wildlife Service (USFWS), and the MN Department of Natural Resources (DNR), we are surveying tallgrass prairie managed by the USFWS and DNR in partnership with local livestock farmers.
Not sure what a BioBlitz is?
A BioBlitz is an intense period of biological surveying in an attempt to record as many living species possible in a designated area. Groups of scientists, naturalists, and volunteers conduct this survey over a specific period of time. This BioBlitz focuses on learning about our local prairies and teaching each other about what lives there, about understanding the biological wealth that we have in our western Minnesota communities, and about sharing our excitement and passion for this precious resource. Our goal is to create a species list for the prairie parcels at this event, with the challenge of finding as much diversity as possible. We will catalog our findings on the citizen science website iNaturalist.org, where our project name will be Tallgrass Prairie BioBlitz 2019.
Who can participate in the BioBlitz? Anyone! We need two types of volunteers:
Leaders: those with above-average skills in identifying one or more category of prairie species and are willing to lead and help educate small groups of volunteers (Eyes and Ears). We are especially in need of those able to identify insects, bats and frogs.
Eyes and Ears: volunteers to learn about and then help spot and record as many species as we can on Saturday.
This event is appropriate for all ages, and groups/clubs are welcome. RSVP's are important so we can plan accordingly. We encourage people to sign up for volunteer shifts at . You may also contact Robin Moore to sign up for shifts.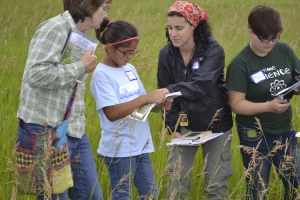 Event Details:
This is a day-long event starting at dawn with birding (exact time and place in Glacial Lakes area to be determined) and continuing as late as we have leaders and volunteers. People may join us at any point in the day.
We will be offering presentations on different subjects throughout the day.
The event is free, but any vehicle without a DNR State Park Pass will have to pay $5 at the Glacial Lakes State Park entrance for the day. This is a per vehicle charge, so carpooling is advised. We will also be asking for free will donations to help cover the costs of the event.
We will provide a shuttle service to get people to the different regions of the park and outside of the park.
We will provide light breakfast and lunch fare. We apologize, but we cannot accommodate for all special diets.
For the evening meal, LSP will provide local grass-fed beef burgers, and all other dishes will be a potluck. Please bring something to share.
Camping for 50 is available at the group camp spot. These will be given on a first come, first serve, basis. Please contact Robin Moore to reserve spots.
More details to be announced as the event date approaches. Please contact Robin Moore to RSVP or with questions.