Using Leases to Reflect Your Farm Stewardship Values
With a single phrase, we can put conservation to work on rented land. And that would have a major impact from a landscape point of view: more than half the crops in Minnesota and Iowa alone are produced on rented acres, and every one of them could be saving soil, water, habitat and money with some mutually agreed statements set down between landowner and tenant. Be it cropland or pasture, woodland or river front, everyone who owns or works land can have a hand in making it better.
Given our mission of land, farm and community stewardship in light of a better understanding of land tenancy, Land Stewardship Project is working with the particular subset of people who rent land, whether as owner or tenant. Several themes present themselves; we try to address them on this page.
Principle among them is the gap between a land ethic, and a land ethic at work on rented farmland. Some of this is explained by shifts in land ownership combined with social expectations of long-standing, usually verbal, agreements. There is no changing who owns land, but getting those handshake deals down on paper creates an opportunity to include conservation.
The resources below take on the details of a written lease that reflect at least some of the stewardship values of both landowner and tenant. If you haven't gotten to that point of shared values, we've assembled a "Stewardship Values Checklist" to get you started. And for you who own land but do not use the language of farming, we have matched certain farm aspects (for example, tillage or chemicals) with practices that address them in a conservation-minded manner. These phrases are suitable for inserting in your lease.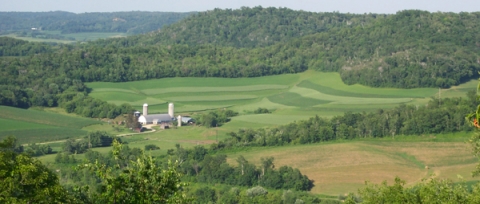 As always, the most effective agreement is the one worked out equitably between owner and tenant. "Effective" in this case carries the features of a land ethic at work as well as the more typical needs related to production, finances and timing. A good lease really can be what's good for the land — with just a phrase or two.
Talking Conservation
For examples of farmland conservation practices and the words to describe them, check out this LSP fact sheet. It also contains a "Stewardship Values Checklist" for finishing the following statement: "What is important about my land to me…."
Other 'Conservation in Leases' Resources
The following organizations provide good information on leases in general as well as the particulars of leases with an emphasis on conservation/sustainable practices including managed grazing. The materials include sample leases, worksheets, and discussions that can change the way your land looks and behaves: