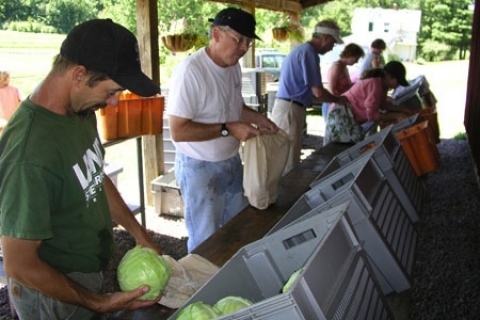 The Land Stewardship Project is working to increase the supply of food produced in the driftless and western prairie regions, increase profit for the farmers producing just food and build easier access to it for people. We believe that local food supply chains that are short, transparent and are built around closer connections between farmers and eaters can help build communities that are healthier for the economy and the environment, as well as the people who live in these communities.
However, we also realize that building such a system in our rural food deserts requires an infrastructure that runs counter to the existing system, which is based on an extractive, industrial model fueled by exporting commodities (and wealth) out of our communities.
That is why LSP is reaching out to everyone involved in the food chain—farmers, distributors, processors, restauranteurs, grocers and eaters—and working with them to develop practical, concrete solutions. We are researching and conducting workshops on understanding and controlling transportation and distribution costs, helping farmers adapt season extension techniques, managing grazing land for better production and profit for farmers, developing opportunities for farmers to join existing production and marketing chains and in general helping communities see the potential for building their economies on regional food systems.
Two geographic areas LSP is focusing this work on at this time are: