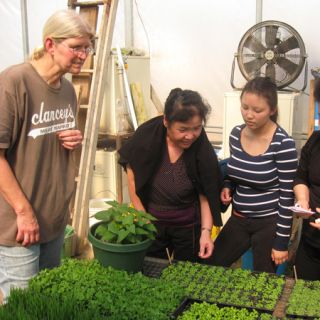 The Driftless Region of SE MN, NE IA, and SW WI typically sees enough rainfall to nurture an almost-breadbasket capacity for growing food. Just about every aspect of growing, buying, and selling this food points to the logistics of moving it. LSP continues to work to build demand and markets but the need for infrastructure, particularly distribution, has come to define our community food work in this region.
In the commercial food world, the farmer takes pennies per food dollar; this short-shrift approach has no place in a food community committed to sustaining everyone. If we want THIS food - the potatoes and beef of our region - then those farmers must be profitable enough to farm the next year. The singular cost of fuel, let alone labor, vehicle upkeep, even the inevitable parking ticket contribute to a case for paying more attention to how food moves – or could move - as a significant variable in determining a fair price for all.
In work with a local distributor and more, we inevitably weave in other facets of local food infrastructure – food sourcing; public education on- and off-farm; and farmer-targeted workshops on transportation costs, on-line marketing tools, product pricing, and the economics of grass-based livestock production. We offer programs in Hmong, and some worksheets have been translated into Spanish: our commitment to sustainable agriculture makes this cultural leap a natural component of all our food work.
Our work around local food distribution reaches deeply into the core of the local food movement with questions about how the land is managed, scaling up, maintaining the personal "face of the farmer," and improving farmer profitability.
A land ethic, wrote Aldo Leopold, "evolves in the minds of a thinking community." The full price of stewardship food, one that engenders such values as would support decent livelihoods for small- and mid-sized family farmers and workers, and our shared need for real food with a fair price tag, will take some real thinking, in the realm of distribution and beyond.
We acknowledge some of our more active partners in LSP's Driftless Region food community:
• Bluff Country Co-op
• Co-op Partners Warehouse
• Farmer partners — please see LSP's Stewardship Farm Directory
• UM SE Regional Sustainable Development Partnership/ The Experiment in Rural
• Cooperation
• UM Organic Ecology
• Winona County Economic Development Authority
• Ziebell's Hiawatha Foods, Inc.