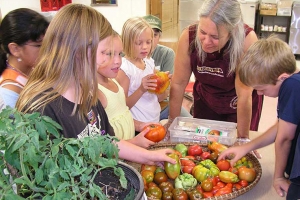 Land Stewardship Project's western Minnesota office in Montevideo is one of many founding members of Pride of the Prairie, a powerful, multi-sector initiative to increase awareness and consumption of locally grown foods including at the University of Minnesota Morris cafeteria. An early and ongoing partner in this effort is the West Central Regional Development Partnership. The Partnership is our Upper Minnesota River Valley Buy Fresh Buy Local chapter affiliate and convenes and supports a number of local foods initiative across the region.
LSP's Food Systems work has evolved around two critical and closely related challenges.
How can a local/regional food system in a sparsely populated rural food desert help people eat fresh, healthier food and at the same time support profitable opportunities for area farmers and distributors? Intensely local, home based food production, preservation and marketing of the type we're piloting in Big Stone County is part of the answer. Another piece of the puzzle is cooperative, community based values based supply chains that enable farmers to distribute product laterally to small food venues and access denser markets in small cities and metropolitan areas.
Can peoples' desire to eat locally grown, healthy food that is raised in a way that nurtures and sustains soil, farms and rural communities "pull" a greater level of stewardship on the land in ways that are sustainable and profitable? We believe the ethic of stewardship for our farmland is an integral part of a just food system. Among the goals of the Chippewa 10% Project is to raise the conversation about stewardship and develop farmer conservation leaders speaking out and demonstrating how perennials and profit can go hand-in-hand through production and marketing of grass based livestock products.