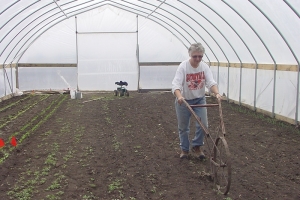 Big Stone County in western Minnesota has been officially designated a "food desert" by the USDA because residents on average have to travel several miles to get to a grocery store. That designation is ironic, given that the area is home to rich farmland and numerous agricultural operations. However, much of that farming infrastructure is used to produce corn, soybeans and other commodities that are shipped out of the region.
In fact, the micro-climate produced by Big Stone Lake once provided ample protection for numerous apple orchards in the county. In addition, cannery crops like sweet corn and peas were a major presence here years ago.
Since 2009 the Land Stewardship Project has been working with area producers, community members and representatives of local government who feel the production and consumption of local food could be a cornerstone of a thriving Main Street. As part of this effort, in April 2011 LSP began leasing an old restaurant space in the community of Clinton and started hosting discussions on how the "Clinton Kitchen" could serve as a hub for sustainable economic development in the Big Stone Lake region, which covers parts of western Minnesota and eastern South Dakota.
LSP and local residents are looking at using the Clinton Kitchen as a location for doing everything from cooking and processing local food to serving community meals that are healthy and sourced from area farmers.
LSP staff, members and others in the community have assisted in the rejuvenation of Ortonville's all-volunteer-run Granary Food Co-op, now in its third decade of operation. Beginning with a face-lift on the interior of the store in early 2011, re-formation of a board of directors later that spring, and an on-going diversification and expansion of the product line that includes the area's best selection of fresh, local produce, meats, eggs, grains and honey, the Granary Co-op is a great success story of local foods as a tool for community engagement and economic improvement. The store increased its gross sales by 50 percent from 2010 to 2011, and is on track to match that progress again in 2012. Currently, the Co-op, with help from LSP staff, is working with CDS Consulting to improve management and operations systems to ensure sustainability in its growth.
As part of LSP's work in the Big Stone area, we are sponsoring public events and workshops on everything from transporting food from field to fork to how to prepare and store whole foods.