The bluffland topography of the Root River watershed in SE Minnesota (mostly) lends itself beautifully to the perennial-based systems of pastured livestock. Were such stewardship management to prevail, resource concerns shared by watershed farmers and non-farmers alike – water and sediment control, grassland bird habitat, and nutrient management, for examples – would become safeguarded resource assets.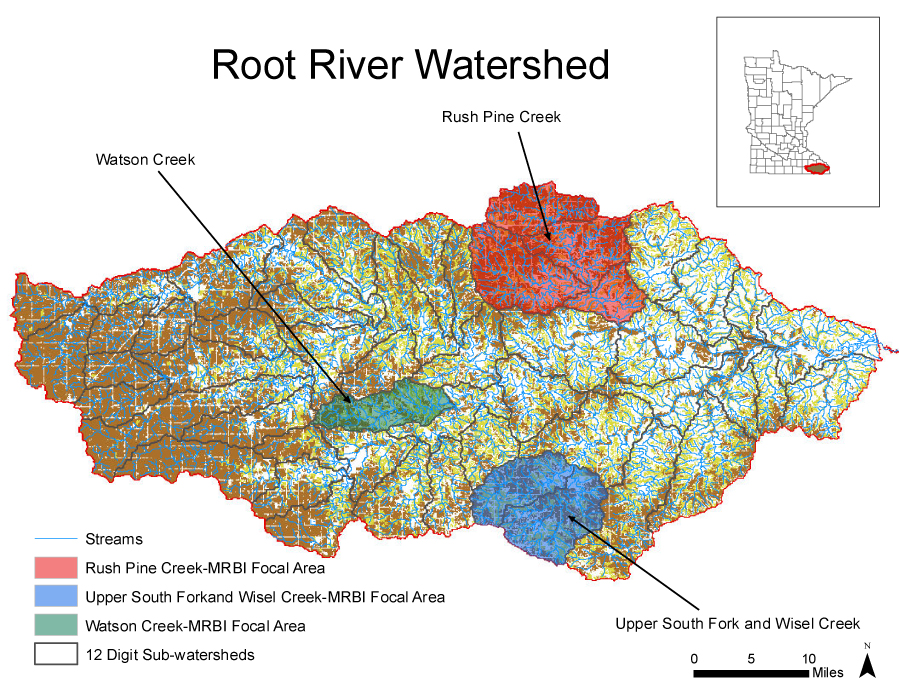 In partnership with some of the watershed's critical thinkers and doers, the Land Stewardship Project is poised to take to the kitchen tables of watershed farmers to find out what is needed to bring more people into the world of grass farming and help make it happen. If you have a kitchen table to share, please contact Caroline van Schaik — we'd like you to consider hosting a gathering of your neighbors to talk about agriculture and your needs in order to farm for the birds, for the stream, for your own improved profitability. We're interested in everyone in the Root, including if you own farm land but don't farm it, if you are a woman landowner, if you have land about to come out of the Conservation Reserve Program, if you are interested in a grazing or conservation plan or have one you need help activating, and if you have pastured livestock you could sell for a better buck.
Some questions we hope we can help to answer: can a non-farming food enthusiast practice a land ethic? What about non-farming landowners who want conservation values in their leases? Could retiring CRP acres be offered to a beginning farmer in need of livestock pasture? Who is buying grass-fed beef wholesale? What would it take to keep a grazier in business, given that a land ethic still requires most of us to make a living?
Making money, grassland birds, conservation leases, helping a beginning farmer, trout fishing and a good cup of coffee have one significant common denominator – we hope to see you at a kitchen table soon. And yes, we'll be hosting-on-farm events for the public, too.
We acknowledge these partners among others who will be with us at the table, figuratively and sometimes, literally:
• Fillmore County Soil and Water Conservation District
• The Nature Conservancy
• Grazing Lands Conservation Initiative of Minnesota