On Sept. 21, 2012, over 270 farmers, certified crop advisers, natural resource professionals and others involved in production agriculture participated in "Restoring the Soil Resource: Insuring for Resiliency and Profits," an unprecedented video conference on building soil health and managing soil biota for economic and environmental sustainability. The video conference, which originated in Morris, Minn., and was streamed into six other sites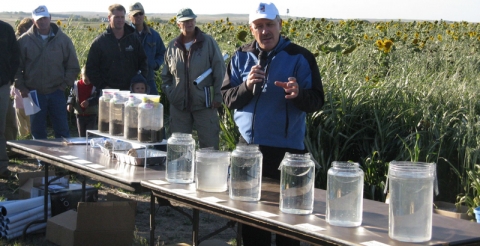 around Minnesota, consisted of hands-on soil health assessment demonstrations as well as a panel discussion involving Minnesota farmers sharing their practical experiences improving and maintaining soil health.
Presenters included: Jay Fuhrer, a district conservationist in North Dakota who is leading a team of farmers, ranchers and soil technicians dedicated to implementing a holistic approach to soil health; Kristine Nichols, a soil microbiologist with the Northern Great Plains Research Laboratory; and Kenneth Miller, a North Dakota farmer and rancher with over 25 years of experience practicing Holistic Management and using cover crops and livestock to build soil health. In addition, Don Baloun, the Natural Resources Conservation Service (NRCS) State Conservationist for Minnesota, gave the opening address.