Perhaps despite my better judgement, I made the decision several years ago to alter my career trajectory and become a farmer. As a former farm kid from the plains of southwestern Minnesota, it shouldn't have been that crazy a notion, and I thought I'd have a leg-up getting my farm started. Despite rural connections and family farmland, I was disappointed to find myself facing the same problem most beginning farmers report: access to land. A bill currently making its way through the Minnesota legislature proposes to help by giving landowners an incentive to sell or rent land to a beginning farmer.
At first glance, access to farmland in this state would't appear to be a big deal: Minnesotans see farmland just about every way they look. But too close to an urban area and you're competing with the price of development; get out a ways into those rich, black soils, and you're looking at some of the most expensive agricultural land in America.
Then there's the problem of where to rest your head at night — after an extensive search, my husband and I grew increasingly frustrated that any good farmland seems to have become disconnected from the farmhouse on it. You can get the farmhouse and a few surrounding acres if you want to dabble at farming, but if you want to graze livestock and bring in a decent income like we hope to, a few acres won't cut it. Any larger parcels of land don't come with a house, and you're usually competing with the landowner's long-time neighbor who has a history of having coffee with the seller and the added benefit of already having a house.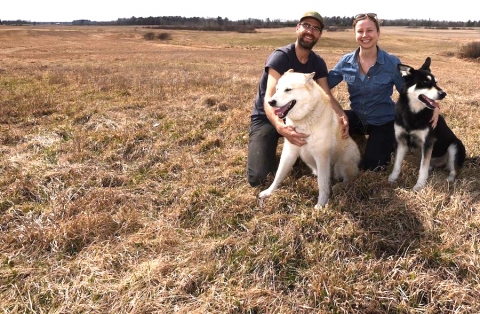 The average age of the American farmer is 58-years-old and trending older each year. As more and more farmers reach retirement and either decide to sell their land but stay living on the farm or, alternatively, sell their house while continuing to make some income renting out the land, this problem is only getting worse. Most older farmers we've talked to want to see more young and beginning farmers on the land, but no one can blame a landowner for making the best financial decision for their own family after investing their entire lives in their farm.
The beginning farmer land access bill might ease this situation. The Land Stewardship Project first proposed this legislation in 2006 based on a program initially adopted in Nebraska. Iowa and Wisconsin have since created similar programs. This legislative session, Sen. Michael Goggin (R-Redwing) and Rep. Nels Pierson (R-Rochester) have taken the initiative to make the initiative a reality and have reintroduced the bill.
It would provide landowners a state income tax credit when they sell or rent land or equipment to a beginning farmer. The credit would be equal to 5 percent of the sale price, 10 percent of the cash rent fee, or 15 percent of the crop share value. To qualify for the tax incentive, the beginning farmer must take a farm management course like the Land Stewardship Project's Farm Beginnings course, which my husband and I graduated from last spring and found monumentally helpful in developing a business plan (which ultimately led to obtaining an FSA microloan). The beginning farmer would be eligible for a tax credit that would cover the full cost of that training.
In our case, after finding some beautiful—and affordable—hay fields in the sandy soils of northeastern Minnesota, we spent about six months befriending the landowner, convincing him at least one of us had some idea what we were getting ourselves into, and ultimately talking him into selling a 160-acre parcel of his farm to us on a seven-year contract for deed.
My husband somewhat begrudgingly agreed to build us a house on the land. I'm eternally grateful he has the skills and experience to do this, but it has definitely sidetracked us from hitting the ground running with our farm business. Had these tax credits been available at the time, we're certain it would have given our new neighbor fewer reservations about deciding to sell to us and would have been a huge help to our own budget.
At the Land Stewardship Project's Family Farm Breakfast at the Capitol on March 9, I and other beginning farmers met with over 50 legislators to advocate for this policy and others that help rural Minnesota. Farmer-members of both the Land Stewardship Project and the National Young Farmers Coalition then testified before the House and Senate Taxes committees on behalf of the bill, which received a positive reception and last week was made a part of the overall omnibus tax bill (the beginning farmer tax credit section is included on lines 1.10 to 4.13).
It is this type of grassroots support from farmers—young and old—that will get the beginning farmer land access bill passed, and I urge you to contact your legislators to ask them to support it.
Hannah Bernhardt farms with her husband, Jason Misik and their child, Harvey, in Finlayson, Minn. Medicine Creek Farm began as Belly Rub Bacon, a pastured pork operation. They look forward to offering 100 percent grass-fed and finished lamb, beef and pastured eggs in the coming years.