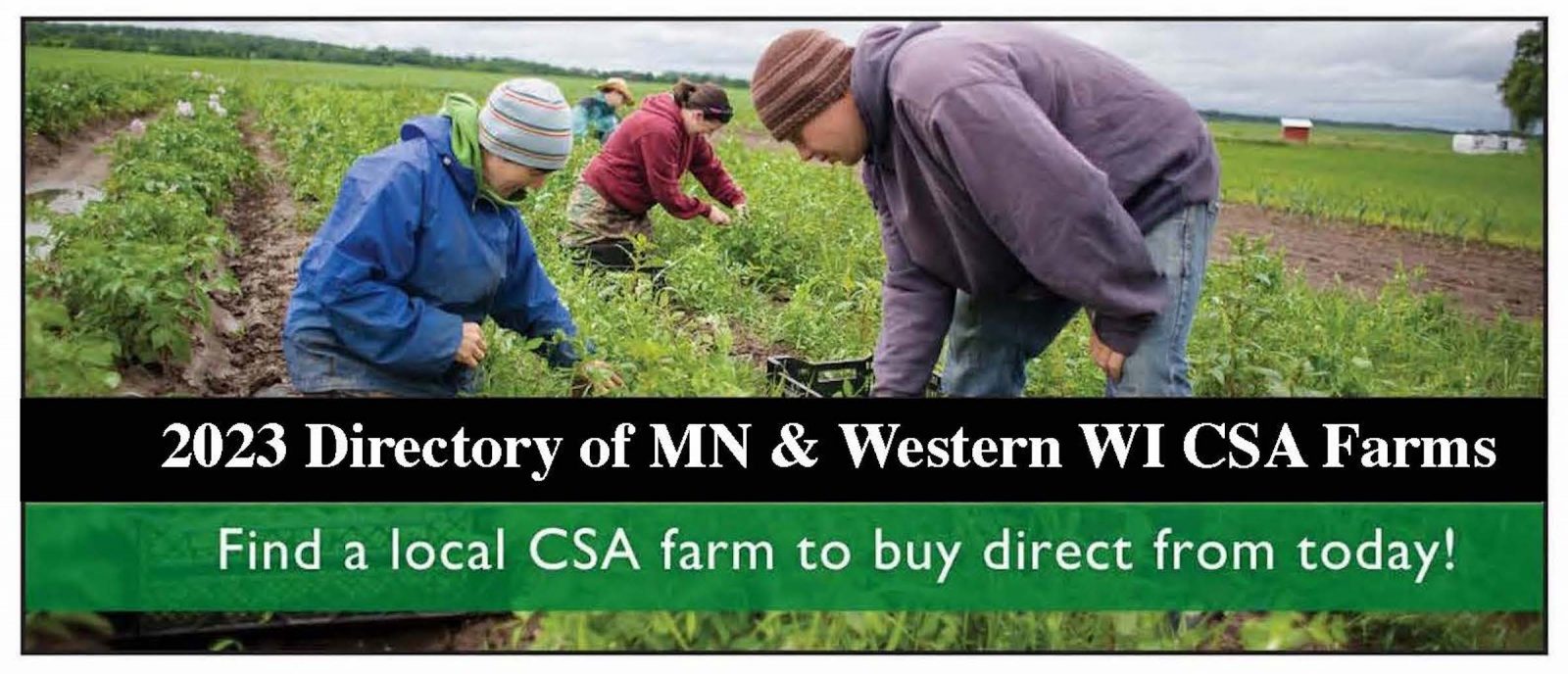 Are You a CSA Farmer Looking to be Listed in the 2023 Directory?
What is Community Supported Agriculture (CSA)?
At their most fundamental level, CSA farms provide a weekly delivery of sustainably produced food to consumers during the growing season (approximately June to October). Those consumers, in turn, pay a subscription fee. But CSA consumers don't so much "buy" food from particular farms as become "members" of those farms. CSA operations provide more than just food; they offer ways for eaters to become involved in the ecological and human community that supports the farm.
The farms listed in this directory have paid a fee to the Land Stewardship Project to be included. The Land Stewardship Project is not a certification agency for Community Supported Agriculture farms and does not guarantee customer satisfaction.
Please keep in mind that while membership in a CSA farm means sharing in the bounty of the season, it also means sharing in the risks. At times, raising food in the Upper Midwest can be made quite challenging by inclement weather, pest infestations and other factors beyond the farmers' control. We encourage you to contact the farms directly and ask questions to determine what best fits with your needs, lifestyle and schedule. We recommend reading the "Selecting a CSA Farm" and "Questions to Ask a CSA Farmer" guides below before beginning your search for a CSA operation that fits you best.
Good luck as you take that first step into an exciting sector of our food system!
It is often difficult to choose which CSA farm to join. While membership in a CSA farm includes a weekly share of fresh produce (and increasingly, meat and other products), other factors may vary from farm-to-farm. You may want to refer to this list* when choosing a farm:
Location: The CSA farms listed in this directory are located throughout Minnesota and western Wisconsin. You should keep in mind the driving distance to the pick-up site or the farm when considering your level of involvement and the involvement expectations of the farm.
Pick-up site/Delivery Day: The CSA farms listed have various delivery or pick-up dates. Most farms deliver shares to a common pick-up site, but a few will deliver your share to your door, while others require you to pick up your share at the farm or help with deliveries.
Length of Season/Number of Deliveries: The length of season and number of deliveries varies among the farms. Most begin in May or June and run through September or October. Some farms have an optional winter delivery for an additional cost.
Types of Produce and Other Food Items: Most of the CSA farms offer a wide variety of seasonal vegetables. Some farms offer unusual varieties while others may add extras to their standard shares. Some farms may give members the option to buy honey, fruit, flowers, eggs, wool/yarn, meat or other specialties at an additional cost.
Opportunities for Involvement: Community building is an important part of the CSA approach; most farms encourage you to become involved. Some farms plan seasonal festivals or special events while others encourage their members to just "drop by." Some farms expect involvement in the farm as part of membership.
*Ideas and wording used for this list taken from FairShare Community Supported Agriculture.
Questions to Ask a CSA Farmer
As the number of CSA farms has grown in the region over the years, eaters interested in knowing the faces behind their food have been offered more choices than ever. However, increased choice can bring with it some challenges. How do you choose the farm that best fits your needs and is most likely to provide a satisfying experience?
Below are a few questions that should be asked of any farmer you are considering entering into a CSA relationship with. Potential CSA members should not be shy about asking such questions — and a good CSA farmer should be forthcoming with answers. After all, this is about creating a trusting relationship built on good food, good stewardship and good friendships.
How many years have you been farming?
How many seasons have you been doing a CSA?
Have you ever worked or trained on another CSA farm?
What vegetables do you plan to provide to shareholders?
What is the size of a share? Do you offer half shares?
What is your system for storing and transporting the produce once it is harvested?
At the drop-off locations, is the produce left in a sheltered area?
How do you view the CSA notion of shared risk/shared bounty?
Are farm members welcome on the farm, and what community events are held?
Is there a farm work requirement?
Contact
Brian DeVore, LSP managing editor, e-mail, 612-816-9342