As part of its education-to-action strategy, the Land Stewardship Project periodically produces deeply researched publications on everything from soil health and local democracy to the need for policy reform.
Click on the Headings to Download pdfs of these LSP Publications
This 50-page pocket guide provides policymakers, educators, journalists, and the general public an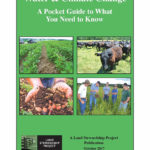 introduction to the latest innovations in science and farming related to building soil health, and how implementing such practices on a wide scale basis can make agriculture a powerful force for creating a landscape that is good for our water and our climate. Download the app here; download the pdf here.