Cover crops play a key role in building soil health. They shield soil from erosion during heavy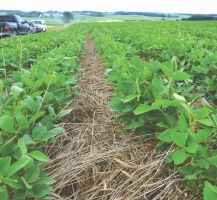 downpours, rebuild soil structure, improve water infiltration and aeration, and scavenge excess nutrients. They also feed the soil's biological life and suppress disease and weeds.
With all of these benefits comes a host of questions to consider when choosing and managing cover crops. For instance, what do you want the cover crop to accomplish? Which covers are best for scavenging nitrogen or for fixing "problem" spots in the field? What is the best way to terminate them in the spring? And how and when can cover crops be successfully established? Farmers are working through these critical questions and have provided the resources on this page to help guide other farmers. Check out the resources below to learn more about cover crops and how to best implement them on the farm.
Got Cover Crop Questions?
Do you want to know how to get started cover cropping, or need to tweak your current cover cropping system? Give LSP a call at 507-523-3366.
Field Days
Check out LSP's online calendar for details on the latest field days and workshops.
Cover Crops Fact Sheets
• Cover Crop Considerations
• Frost Seeding Cover Crops
• Managed Grazing of Cover Crops for Farmers Without Livestock
• Farming with Well-Managed Grazing & Continuous Living Cover Enhances Soil Health & Addresses Climate Change
Cover Crop Blogs & Stories
• Blog: Red Rooster Ranch: Spreading the Cover Crop Message (11/6/20)
• Blog: Midwestern Farms Can Counter Climate Change (3/9/20)
• LSP Podcast: How farmers Dawn & Grant Breitkreutz are building soil carbon & bolstering profitability. (2/20/20)
• LSP Podcast: A U of M experiment station's research into grazing, cover crops, and soil health. (12/3/19)
• Winona Post Article: Ridgeway farmers grow corn and covers — simultaneously (10/2/19)
• Blog: Soil Health: Short-Term Gains, Long-Term Dividends (7/17/19)
• No-Till Farmer Article: On-Farm Research Validates Benefits of No-Till, Cover Crops (7/11/19)
• Blog: Are You Trying to Grow a Crop in a Biological Desert? (5/15/19)
• Agri-View Article: Cotter chooses cover crops (4/5/19)
• Blog: 'Caring for the Land' with Cover Crops, the Roller-Crimper & Spring CC Seeding (2/20/19)
• Blog: Soil Health: When the Neighbors Take Notice (9/12/18)
• Blog: Climate Conversation with Farmer Mike Krause: Generational Regeneration (5/1/18)
• Blog: Farmer Loran Steinlage Shares his Soil Health Story of how Trying Times Call for Building Soil Health (12/14/17)
• Blog: Jon Luhman: A Farm Makes Changes to Benefit Soil, Profit & Quality of Life (3/3/17)