The Chippewa 10% Project is based on the idea that landscape change begins with farmers/landowners, and includes the entire community. We work with farmers and their communities through various initiatives:
Cover Crop/Soil Health Network
Whether you raise livestock, commodity crops or produce, cover crops are an excellent way to improve your farm's soil health and overall productivity. As part of the Cover Crop/Soil Health Network, farmers and ranchers in the Chippewa River watershed are monitoring their soil's response to cover crops and experimenting with different species, planting methods and timing. Members of the Cover Crop/Soil Health Network get together each winter to talk about what they have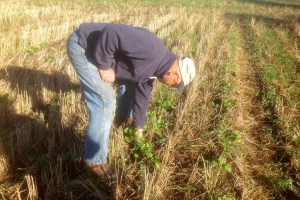 tried. They go over what has worked and what hasn't, while generating new ideas. We also meet annually with a soil scientist to examine soil test results and learn more about what they are telling us about each farm. Network members receive assistance finding ways to support their work through government program incentives, cost share programs, workshops and field days, as well as farmer-to-farmer connections. If you are interested in being part of our Cover Crop/Soil Health Network, contact Robin Moore.
Grazing Network
Want to know more about high density grazing? Want to see how someone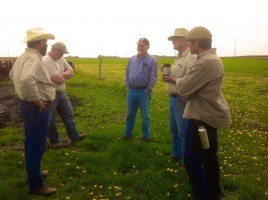 else is dealing with watering issues or winter feeding? The Grazing Network is made up of of livestock managers who want to learn together, as well as from each other. The network meets regularly on member-farms to problem-solve, share tips and techniques, and learn about innovative practices. The graziers help determine what speakers, workshops and field days are relevant and interesting. Contact Robin Moore or Andy Marcum if you are interested in being part of the Grazing Network.
Women Caring for the Land
Women Caring for the Land (WCL) is an educational group that encourages women non-operating landowners of all ages to identify and pursue conservation values on their land. WCL helps these women take care of their land, attain their goals and follow through on their conservation values while still meeting their financial needs. We do this with education, empowerment and community support. At the core of this work are community meetings, field days and workshops where women landowners can come together and share ideas and resources.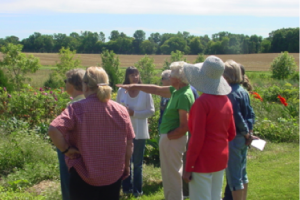 WCL meetings are free and open to all women landowners seeking to enhance conservation practices on their rented acres, and are focused on providing space and time for women to ask questions, pursue information, and ultimately, make positive changes on their farmland. For more information, contact Robin Moore.