On April 13, Hope Community intern Taya Shultz lead a cooking class at Hope's community kitchen. "The topic was breakfast. We made almond milk, vegetable breakfast smoothies and buckwheat muesli pancakes," Taya told me.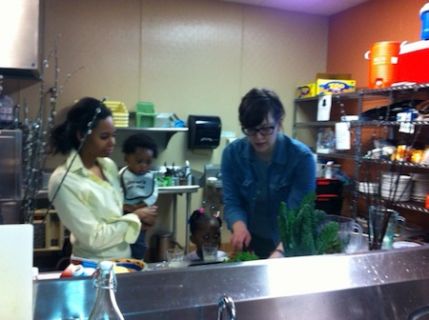 Hope Community is a place-based community development organization that is entrenched in the Phillips Neighborhood, one of the most economically challenged and diverse neighborhoods in Minneapolis. Hope provides 173 units of affordable housing that is home to some 400 people. Since 2009, LSP has been working with Hope through an initiative called "Growing Neighborhood Access to Healthy Food." It's an attempt to build community power and capacity to shape a strong neighborhood-scale system that ensures reliable, affordable and equitable access to healthy food.
As part of this initiative, cooking classes were held twice a month on Saturday mornings during the winter to bring community members together to share their favorite recipes. The focus was on making and sharing food that is healthy and easy to make. Other cooking classes included lentil veggie burgers with sweet potato fries, and sambusas.
"The class went very well. Community members who have been participating in food-related classes are starting to really get to know each other and become friends," said Taya, who has been interning at Hope since March. "I am glad to see that people are interested in trying new things and love the feeling they get from cooking with, eating and sharing fresh food."
Taya has also helped to organize and perform outreach for events throughout the spring such as the Vegetable Garden Basics series, and food-themed movie nights.
"I would like to see attendance expand. Maybe we could encourage people to bring their friends, and reach out to more people in the community by asking them to share their kitchen skills with us," said Taya.
Community-led cooking classes will continue through the summer, alongside programming that supports new and continuing gardeners at Hope's Community Garden space. For more information about LSP's partnership with Hope, visit LSP's Hope Community web page.
Anna Cioffi is a Land Stewardship Program organizer working in the Hope Community on developing community based food systems. She can be reached via e-mail or at 612-722-6377.