Interested in hearing directly from the next generation of innovative farmers? Check out the Land Stewardship Project's Ear to the Ground "Fresh Voices" podcast series. You can read profiles of Farm Beginnings grads here. You can check out all 295 episodes of our Ear to the Ground podcast here.
Humble Hands Harvest's entry into agroforestry is being supported by its vegetable operation — setting the stage for a new approach to farming a rugged landscape long into the future.
Farm Beginnings and Journeyperson taught Melissa Driscoll that true sustainability starts not only with the soil, but the person who's stewarding it.
How Farm Beginnings helped Hannah Frank and Justin Thomas whittle their enterprise "wish list" down to a sustainable size.
Beginning farmers Abbie Baldwin and Mitch Hawes are playing the long game when it comes to launching their permaculture operation.
These beginning farmers are accessing land without owning it — one megawatt at a time.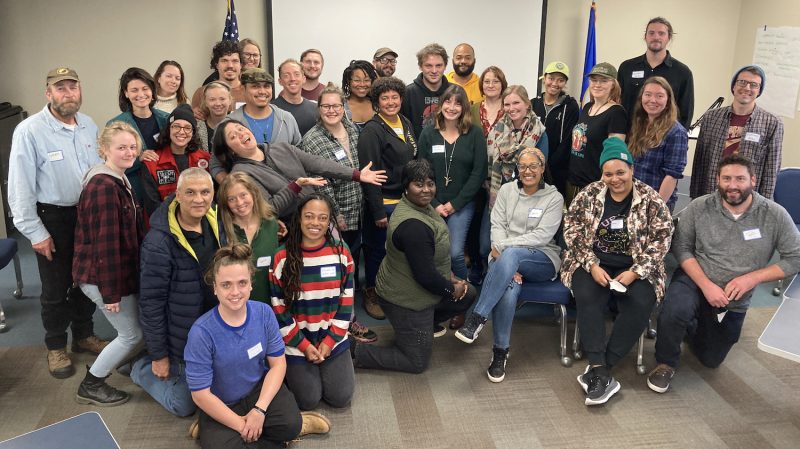 Carrie Calvo's 7,000-mile journey to the heart of farming and local food.
Adhering to the tenets of Ag Econ 101, a pair of beginning farmers are avoiding commodity row crops and embracing grazing, silvopasturing, and "bale grazed veggies."
Dawn 2 Dusk's dedication to helping Africans get established on Minnesota soil.
Government regulators may be befuddled by Cella Langer and Emmet Fisher's tiny dairy, but these Farm Beginnings/Journeyperson grads know exactly where it fits into their business.
Nettle Valley Farm's "informed sink or swim" model of incubating the next generation of farmers.
Pack-shed or people? LSP's Journeyperson helped vegetable producers Les Macare and Els Dobrick make a big decision about a recent growing season.
Anna Racer and Pete Skold have used state and federal "spark plugs" to build a farm enterprise infrastructure that's good not just for them, but the community as well.
Rachel Henderson and Anton Ptak's secondary enterprise could be a boon for farm country pollinators.
Over the past two decades, LSP's Farm Beginnings course has developed into a nationally-recognized program for launching the next generation of innovative farmers. Karen Stettler and Amy Bacigalupo talk about how Farm Beginnings got started, the community-centered philosophy it's based on, and where it's headed.
Hannah Bernhardt and Jason Misik couldn't afford prime farmland brimming with infrastructure. But sweat equity and soil health are helping them transform a marginal piece of ground far from Corn Country.
How the Sustainable Iowa Land Trust is connecting stewardship-minded landowners with the next generation of regenerative farmers.
A desire to continue a legacy (and a love of weed-pulling) eases Foxtail Farm into the hands of the next generation.
When a CAFO threatened a rural neighborhood, residents looked to a beginning farmer for a different vision of the future.
How a Farm Beginnings field day makes everyone a "consultant."
A young couple launches a farming enterprise from afar.