Cropping Systems Calculator
Should you keep planting that 80 acres into corn and soybeans or would it be more profitable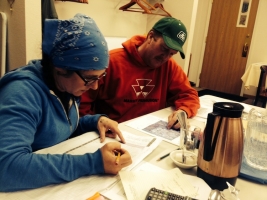 to put it into pasture and graze it? Would the grazing gains offset the cost of cover crop seed, labor, fuel and machinery to plant a cover crop? How does a four-year rotation compare to a two-year rotation if I have to contract hay production?
The Chippewa 10% Project's Cropping Systems Calculator will help you answer these questions. Just enter your numbers and this tool will help you get a better grasp of all the costs and benefits associated with each practice. To get started, check out our Cropping Systems Calculator page.
Other Continuous Living Cover Decision Making Tools
The following tools are a good starting point for learning about what cover crops would work best in your climate and soils, and will help you to identify and meet your goals for your field and farm.
• Green Cover Seed SmartMix cover crop tool: Green Cover's tool is a great starting point to explore cover crops that can help you meet your specific goals, including breaking up compaction, reducing inputs, suppressing weeds, providing grazing, etc. This tool also helps you get an idea for how much the seed will cost per acre. There is no obligation to purchase seed from Green Cover if you use their tool.
• Midwest Cover Crop Council Decision Making Tool: This tool takes into consideration your soil type and is not linked to a for-profit company. This is also a good starting point for learning about families of cover crops and general planting times.
• Midwest Cover Crop Council Multimedia Resources
• The Monitoring Tool Box: This Land Stewardship Project resource is for farmers and other land managers interested in learning easy-to-use techniques for monitoring the impact of management decisions on their land, finances and family.