September 28, 2019, 2 pm-3 pm
Get Bentz Farm, 30700 Northfield Blvd., Northfield, MN 55057
Google Map »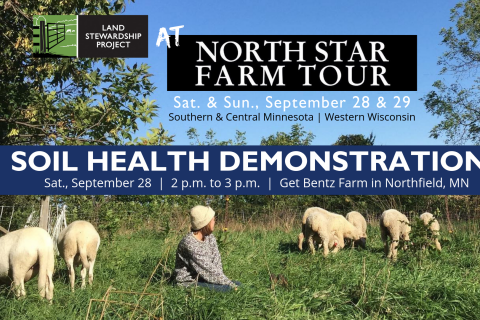 Soil health is imperative to our ecological health, and it includes the integration of cover crops, annual crops, perennials and livestock on the agricultural landscape. Soil regeneration is the answer to restoring the soil's natural productivity, improving profits, protecting water quality, building resiliency into crops, sequestering carbon, and helping to reverse the trends of climate change.
During this year's North Star Farm Tour (NSFT), join the Land Stewardship Project on Saturday, September 28, at 2 p.m., at Get Bentz Farm for a live soil health demonstration. Question and answer period to follow.

This is a free event, but space is limited, so please RSVP for this event below!
Registration Form
This event has already taken place.