Sometimes a Farm Transition is Done at a Distance
On a brilliantly bright October afternoon, Chris Mosel makes his way over a clear-running brook and through a stand of basswood, oak and maple on his central Minnesota farm. As he approaches the edge of the woodlot, he steps over a strand of temporarily erected electric fencing that separates the trees from an open pasture. Below the pasture, the brook runs between the barnyard and the back of the farm. A larger waterway called Spunk Creek snakes through another part of the 138-acre property, which is just four miles from the Mississippi River. This patchwork quilt landscape makes for a nice place to take an autumn hike, but moving large cropping equipment from field-to-field would be another matter altogether.
"I like the farm, it's very pretty, but it is kind of an awkward farm," says Chris with a laugh. "It's good land, but it's either erodible or in tiny little patches and this is a big part of what I spend my time on—stringing fences on overgrown pastures."
But he acknowledges that the odd-acre lay-out of the property is what has made this land accessible to a beginning farmer such as himself. "People who are serious about corn and soybean farming don't want this."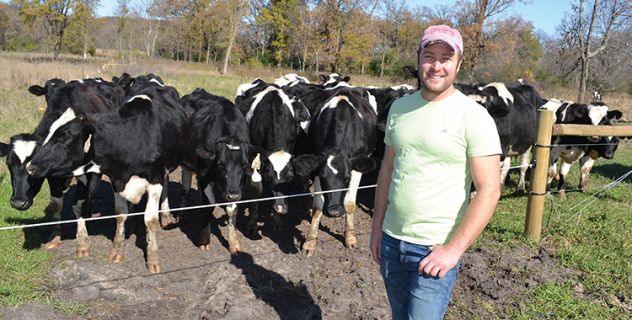 Make no mistake, Chris, 34, is serious about farming. It's just that the farming he wants to do—organic, grass-based milk and beef production—doesn't require hundreds of acres of well-drained, tabletop-flat fields, the kind he was used to seeing where he grew up 100 miles south of here. And that's a good thing, since Chris concedes when he offered a price on this farm four years ago, there was little competition from other bidders, who were probably looking for wide open fields and didn't want to deal with lots of running surface water.
But farmland affordability comes at a price. Trying to launch a livestock operation so far from his family's home farm means going without the benefits—handy sharing of machinery and labor, as well as moral support—of being closer to home.
"I still don't regret getting lower priced land, but the distance is difficult. One of the things I will say the older generation was right about is that if you can, start up farming close to friends or family, some sort of support structure," admits Chris.
In a sense, the young farmer's budding enterprise is still benefiting from the resources a typical family farm transition can provide. Sometimes pure economics don't allow for the kind of passing of the baton that keeps the beginning entrepreneur closer to home, but that doesn't mean some of the sustainable ideas of the older generation can't be passed on over the miles just the same.
Reversing the Brain Drain
Chris's father, Darrel Mosel, began farming near Gaylord, Minn., in 1981 soon after getting a degree in economics from Augsburg College. He and his wife Diane raise crops and livestock on around 900 acres in Sibley County. This flat, fertile land makes it prime row-cropping country, and the Mosel operation stands out a bit as a result of the presence of livestock, pasture, small grains and hay ground in the midst of a duo-culture of corn and soybeans. In fact, even though this hasn't been serious dairy country for quite some time, the Mosels have a 75-cow milking herd. Darrel always felt strongly that dairying, with its regular milk checks and reliance on multiple feed sources, offered the best opportunity to make it as a diverse, family farm on a moderate scale. He also believes that farming should be done in a way that protects natural resources. The Minnesota River, which suffers from serious contamination issues as a result of agricultural runoff, is just 20 miles from the Mosel place. That's why Darrel has always worked to rotate crops and build healthy soil, while maintaining perennial buffers along waterways. The presence of livestock provides an economic and agronomic reason to have more cover on the land and roots in the ground all year long.
Darrel, 62, is beginning to wind down his farming career. Specifically, he's considering getting out of the milking part of the business, which is labor intensive. The timing could be good, with Chris interested in farming. Darrel realizes that his son's interest in production agriculture is somewhat unusual, considering that many of his contemporaries are seeing their children leave the land.
"I sat down at one time with the county plat map and I realized that every farmer within a five-mile radius of me is someone my age, and almost none of them have kids who are going to take over," recalls Darrel.
For a time, it looked like Chris was going to be a part of the rural brain drain that sends so many farm kids out of the community, never to return. When he was growing up on the Sibley County farm, he was an avid reader, and gleaned information from books and magazines on a wide range of subjects, from geography to environmental science.
"Chris could probably tell you about every lake, river and tributary in North America," says Darrel.
So it wasn't a big surprise that after high school Chris got a degree in resource economics and international relations from Cornell University in New York, and toyed with the idea of going on to get a law degree. However, he realized he hated working in an office, and the dream of farming drew him back to Minnesota.
But it wasn't just any kind of farming Chris was interested in. One of the things he had read a lot about over the years was organic agriculture. It appealed to him both from an environmental point of view, as well as because organic price premiums can produce the kinds of profits that allow a moderate-sized family farm to do well economically.
Organic dairying, in particular, appeals to Chris because he likes working with livestock and milking produces a regular paycheck. At an early age he had been impressed by how pioneers in the use of managed rotational grazing were able to produce milk and beef profitably on land that wasn't considered particularly good for raising row crops on.
"When you read, you get ideas," Chris says with a laugh.
In fact, while in high school, Chris talked his dad into transitioning 120 acres of crop ground to organic production. The older farmer wasn't thrilled with the extra labor and weeds that came with the transition, but once the chemical-free fields began producing decent yields, he was convinced herbicides and petroleum-based fertilizers weren't always needed to raise a good crop.
Chris was never quite able to talk Darrel into transitioning the cowherd to organic, but these days the older farmer is convinced that for a beginning farmer, the organic market, with its premium prices, may be the only avenue to get into dairy farming and succeed in the long term while maintaining a diversified cropping system that's good for the soil and water.
"The margins in conventional farming are just too thin for the average family-sized operation," says Darrel, who has another son, Michael, interested in farming. He half-jokes about the possibility of having two college-graduate children interested in returning to the land: "I wouldn't mind if one of them decided to be a neuroscientist or something."
In 2011, Chris came back to Minnesota and began working for a landscaping company in the Twin Cities. He also farmed part-time on land owned by Diane's family in Stearns County; for years, her parents had milked 30 cows on that farm. Stearns County has a hilly landscape broken up by small stands of timber, creeks and rivers. This rugged geography makes it more amendable to dairying—out of Minnesota's 87 counties, it's number one in milk production—than large-scale cropping. According to the U.S. Census of Agriculture, the average Stearns County farm is 200 acres; in Sibley County, the average farm is over 360 acres.
Its ruggedness makes Stearns County land less expensive than what's found in places further south. Back when Chris was looking for land, per-acre prices were as much as double in Sibley County.
Four years ago, he found the 138-acre parcel a few miles from his grandparents' place, and it had just what he was looking for: a mix of pasture and crop fields, along with a tie-stall milking parlor with three silos for feed storage. No livestock had been on the farm in two decades and the fencing and other facilities needed some work, but the price was right.
Chris is now in the process of purchasing the farm on a contract for deed, an arrangement where the seller finances the sale of the property and the buyer agrees to pay the purchase price in monthly installments. The buyer takes possession of the property immediately, while the seller retains the legal title until the contract is paid off.
The young farmer admits a contract for deed tends to draw out the process of him taking complete ownership of all the property. However, the arrangement means during the past few years Chris has been able to work the farm; he sells crops he produces there and grazes a few cattle, which he channels into the conventional beef market. Even more importantly, he has been able to steadily build up the infrastructure needed to make this operation a working dairy enterprise again.
Road Worrier
About a year ago, Chris quit the landscaping job and began substitute teaching, which gives him more flexibility to spend time on the farm. His home base is Saint Paul, which makes for a lot of time on the road, especially when he travels to Sibley County to help out with farming there or to borrow equipment.
"Either way I go, it's a distance," he says. "The moment I leave, I worry: did it rain on my hay, are the cows out?"
That's why Chris has been thinking more lately about taking the next big step and making farming his sole source of income. That would mean milking fulltime, and selling his dairy production on the organic market. As Chris sees it, the biggest piece of preparation is to make sure the milking herd has a consistent source of organic feed.
"Once milking is my sole source of income and I'm feeding up all my crop, those cows have got to make money," he says.
So he's been busy transitioning crop ground to organic production. While giving a tour of the farm on that October afternoon, Chris walks over to an impressive stand of corn, which is just a few days away from being harvested. "That's a beautiful field of corn, you can't even tell it's organic," he says, grabbing an ear to count kernels. "That will help me win my argument with dad that organic can yield."
Chris is also growing alfalfa, soybeans, field peas and sorghum. Right now, these crops are mostly sold off the farm, helping him make the payments on the contract for deed. What he's most excited about is the recent addition of a fencing system that will make it possible for a cowherd to get much of its nutrition by rotationally grazing the various pastures on the farm. Such a system will allow him to get economic value out of all those awkward, marginal corners while keeping them covered in soil- and water-friendly perennial grasses.
"This is brand new," Chris says while walking along a line of permanent fencing that will keep livestock away from the brook. Mosel got cost-share money through the USDA's Environmental Quality Incentives Program to put in fencing, as well as a watering system. The money was available because Chris is considered a beginning farmer who is financially disadvantaged, and the USDA's Natural Resources Conservation Service wants to protect water quality in a vulnerable watershed.
Chris walks toward the back of the farm where a herd of 30 Holsteins are grazing. The farmer hopes these animals, as well as some from the home farm, can serve as the core of his milking herd. But he's still considering whether to build his own organic herd, or purchase one outright. Both strategies have their advantages and disadvantages. Buying an organic herd is expensive, but building a homegrown bunch of cows can take a couple of years. And right now, Chris isn't sure just how soon he will be stepping into being a fulltime organic milk producer. Either way, he figures a 60-cow milking herd is optimal—it's what the parlor can handle efficiently and it would provide a good enough income to keep him financially viable. It might even earn enough to make it so Chris could hire help and get away from the farm from time-to-time. Seeing how much his father is tied to the barn as a result of the milking herd is one part of the home farm Chris does not want to emulate.
"To never leave the farm ever, isn't quite the lifestyle I had in mind for myself," he quips.
After checking on the pastures and crop fields, the young farmer heads back to the well-kept barn that houses the parlor. He talks about the steps he will need to take to obtain equipment like a pipeline system and milkers, as well as a barn cleaner. Some of that equipment may become available when his dad closes shop on his dairying enterprise. It will have to travel 100 miles, but Chris can put it to good use.
Both father and son talk about the ideal situation: just as Darrel is wrapping up a three-decades-plus dairying career, Chris will be launching his own. That new operation may be many miles away in a different landscape using non-conventional methods, but it will be based on a common core belief: integrating livestock, crops and pasture on a moderate scale can pay off economically and environmentally. Chris feels that in a way, having such an attitude gives him a bit of a competitive advantage over farmers whose business model is based on access to hundreds, or thousands, of acres of prime land that provides plenty of room for a 48-row planter to turn around in.
"High land prices are why I ended up 100 miles from my family's home base, and that makes things tough," he says. "But if you're serious about grazing, you can go for the erodible land, you can farm around wooded areas and water. Now it's about just taking the leap and making sure it's profitable."