Gardeners at Hope Community in the Phillips Community of South Minneapolis have been working hard this week to prepare soil and create a design for the urban agriculture space that has come to be known as the "2012 Garden," in honor of its address at 2012 Oakland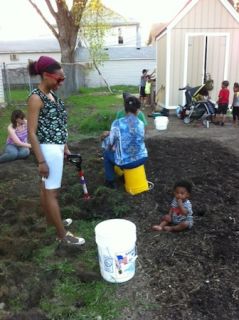 Avenue.
The 2012 Garden has gone through many transformations since it was turned into a garden for community use in 2010. The lot used to have a house standing on it, which was torn down many years ago, and the foundation was packed with a sandy mix of filler soil.
When gardeners and community members realized that the property owned by Hope Community could be turned into a garden, they jumped at the chance. Since 2010 there has been a careful process of amending soil, adding compost and using cover crops to do remediation on the sandy, compacted fill material that made up the vacant lot.
Caretakers of the garden have also come and gone over the years. Participation was slow to start in 2010, and only a few gardeners used the space to grow melons and squash, as well as the other vegetables that were too large to grow in the small 5' x 5' individual garden plots nearby. During the 2011 and 2012 growing seasons, students from the Franklin Library Urban 4-H club tended a large patch of the garden. In 2012 they shared the space with community member Omari Chatman, who used the garden to practice the permaculture design principals he learned through his certification as an Urban Farmer at the Permaculture Research Institute.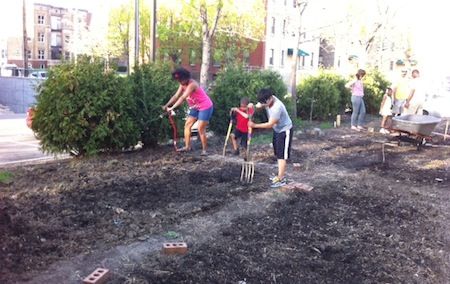 This year, Omari is once again heading up the garden, and is working with a team of dedicated community members who have come together to contribute ideas for design, plant varieties and what to do with extra produce. Some community members would like to see produce donated to local food shelves, while others have talked about starting up a mini farmers' market to sell what is not divided up among the gardeners.
On Thursday, May 16, from 6 p.m. to 8 p.m., Hope is hosting an open house at the 2012 Garden to welcome newcomers and finish getting the soil prepared for planting on Saturday. For more information about LSP's partnership with Hope, see our Hope Community web page.
Anna Cioffi is a Land Stewardship Program organizer working in the Hope Community on developing community based food systems. She can be reached via e-mail or at 612-722-6377.