It takes an entire community to change our relationship with the land. Farmers and landowners can make a lot of changes, but we all have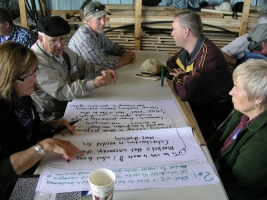 an interest in what is happening with our water, wildlife, public lands and communities as a whole. The Chippewa 10% Project works with communities as well as individuals, helping them to voice their goals, clarify their values and breach communication gaps between groups and organizations.
The Chippewa 10% Project's community work focuses on two major initiatives:
• Simon Lake Challenge: We are bringing together farmers, ranchers, non-operating landowners and recreational landowners in the watershed's Simon Lake area to identify their goals for a unique community. These goals include preservation and management of native prairie remnants, increased pasture health, invasive species management and opportunities for the farming community to grow. For more information on the Simon Lake Challenge, click here.
• BioBlitz: The Land Stewardship Project, in cooperation with CURE (Clean Up the River Environment), and CRWP (Chippewa River Watershed Project) has hosted two consecutive BioBlitz events at Sheep Berry Fen (a property in the Chippewa River watershed belonging to the Nature Conservancy) and a privately owned ranch nearby. For details on the 2017 BioBlitz being held on June 24, click here.
A New Conversation About Water
During the spring of 2016, the Land Stewardship Project and the Chippewa 10% Project, in cooperation with CURE, began setting the table for a new kind of conversation about water. For details see the Community Conversation About Water Ethics page.