Stand with hundreds of Minnesotans from around the state in protecting our water from corporate polluters. Join one of the six bus routes coming in from rural Minnesota.
The Land Stewardship Project is co-sponsoring the 2017 Minnesota Water Action Day on Wednesday, April 19, in Saint Paul. We encourage our members to participate in this event, which is being hosted by a coalition of Minnesota groups working to protect our water. Meet with legislators and rally to protect Minnesota's water; there is a Capitol rotunda rally at 1:30 p.m. Join Minnesotans from across the state to take action for clean water — bus transportation is available on six routes from greater Minnesota.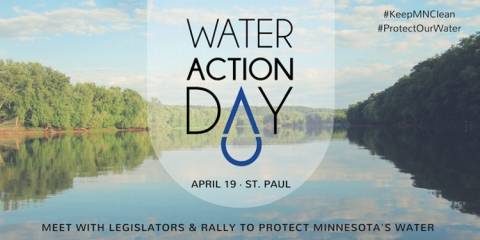 Clean, healthy water is necessary for all life. Water is not a commodity to be abused or used up for profit, but instead, it is a legacy we must leave for future generations. Across the state, LSP members are working to protect water from abuse by corporate interests, including industrial agriculture, factory farms and the frac sand industry. LSP members are also working to build farming systems that not only protect, but enhance, our water quality, such as by increasing continuous living cover on the land. Protecting Minnesota's water is a responsibility we all share, not only as individuals, but also through the public policy our government enacts. Our role as citizens is to hold our public officials accountable to this responsibility. On April 19, join with fellow Minnesotans to publicly call on our state government to protect our water.
The attack at the Minnesota Legislature this year on long-standing protections we need to keep our water clean and abundant is unprecedented. From proposals to strip state regulators of authority to hold polluters accountable to a proposal to double the size factory farms can be before environmental review is required, one thing is clear: too many legislators are putting corporate profits before stewardship of our water. Unless we speak up — rural people especially — these bad laws will pass.
Water Action Day includes meetings with legislators and a rally at 1:30 p.m. in the Capitol rotunda. For more details and to register, click here. This is a free event and lunch will be provided in Saint Paul. For bus transportation, a free-will donation of $20 is requested; youth ride free. To sign up for a bus, see the information below. Please register as soon as possible to make sure a meeting will be scheduled with your legislator.
When you register, make sure to check the box indicating you are a Land Stewardship Project member. Also, please let LSP organizer Johanna Rupprecht know you are coming by calling 507-523-3366 or sending her an e-mail.
Water Action Day Bus Information
To reserve a seat, contact the person listed below for your route. A free-will donation of $20 is requested; youth ride free. Lunch will be provided at Christ Lutheran Church (event headquarters across the street from the Capitol, 105 University Ave. West, Saint Paul).
Bus routes:
1. Austin – Owatonna – Capitol
2. Houston – Winona – Wabasha – Red Wing – Capitol
3. Marshall – Granite Falls – Willmar – Capitol
4. Park Rapids – Motley – St. Cloud – Capitol
5. Bemidji – Cass Lake – Capitol
6. Duluth – Cloquet – Capitol
Details (Listed times are firm departure times):
1. Austin – Owatonna – Capitol
7:30 a.m. — Austin – Walmart parking lot

8 a.m. — Austin High School (students only)

9 a.m. — Owatonna – Target parking lot

10 a.m. — Arrive Capitol
Contact for reservations: Jim Stiles, 507-440-1454, superfreshgardens@gmail.com
2. Houston – Winona – Wabasha – Red Wing – Capitol
7:15 a.m. — Houston – Barista's Coffee House, 110 N. Grant (Hwy 76)

7:55 a.m. — Press Conference at Winona City Hall, 207 Lafayette St. (depart Winona 8:10 a.m.)

9 a.m. — Wabasha – City parking lot across from Supervalu (Bridge Ave. & Hiawatha Dr. West)

9:50 a.m. — Red Wing – Target store parking lot, 151 Tyler Road North

10:45 a.m. — Arrive Capitol
Contact for reservations: Johanna Rupprecht, 507-523-3366, jrupprecht@landstewardshipproject.org
3. Marshall – Granite Falls – Willmar – Capitol
7 a.m. — Marshall – SMSU northeast parking lot near Hwy. 23

7:35 a.m. — Granite Falls – Yellow Medicine HS southeast parking lot

8:15 a.m. — Willmar — rear of Kandi Mall parking lot, near old Kmart

10:30 a.m. — Arrive Capitol
Make a reservation online at this link: Water Action Day Transportation Link; or contact: Peg Furshong, 320-269-2984, or Paul Sobocinski, 507-430-1509, sobopaul@landstewardshipproject.org
4. Park Rapids – Motley – St. Cloud – Capitol
6:15 a.m. — Park Rapids – Walmart parking lot

7:15 a.m. — Motley — Brick's Travel Center (gas station/restaurant along Hwy. 10 in town)

8:30 a.m. — Saint Cloud – Park 'n Ride along Hwy. 10, 1919 Lincoln Ave. SE, St. Cloud 56304

10 a.m. —Arrive Capitol
Reservations for Park Rapids or Motley stops: Barb Wiebesick, 218-252-2828, sunhands@arvig.net
Reservations for St. Cloud stop: Marlene Haider, 320-493-0605, mhaider1231@hotmail.com
5. Bemidji – Cass Lake – Capitol
6 a.m. — Bemidji – Target parking lot

6:30 a.m. — Cass Lake – Teal's Market parking lot

11:30 a.m. — Arrive Capitol
Contact for reservations: Annie Humphrey, anniehumphreymusic@gmail.com
6. Duluth – Cloquet – Capitol
7:20 a.m. — Duluth – Lighthouse lot in Canal Park (by the Maritime Museum)

8 a.m. — Cloquet – Walmart parking lot

10 a.m. — Arrive Capitol
Contacts for reservations: John Doberstein, johndoberstein@remax.net, or Jonathan Maurer-Jones, jmaurer-jones@landstewardshipproject.org