Saturday, Oct. 5, has been billed the National Day of Dignity and Respect as thousands around the country will join together in calling on Congress to pass comprehensive immigration reform. In Minnesota, members of our state's faith, business, labor, law enforcement and immigrant communities share the goal of comprehensive immigration reform.
As a result, a special immigration reform rally and march will be held in Minneapolis on Oct. 5. A 12:30 p.m. prayer service kicks-off the event at the Basilica of Saint Mary in downtown Minneapolis. The march begins at 1 p.m., ending with a rally at the Hennepin County Government Center.
At the Land Stewardship Project, we see immigration reform that includes a path to citizenship as being central to building a healthy farm and food system in our nation. LSP believes that we can't have a truly sustainable agriculture without providing fair and just opportunities for all.
We believe that the legalization of undocumented farmworkers will play a key role in ending the wage theft and violations of worker rights that have occurred on industrial farming operations in the Minnesota.
Additionally, we at LSP have long sought to increase the number of farmers in rural committees. With many immigrants coming from farming backgrounds and some interested in farming in the U.S., immigration reform can provide the security needed for immigrant farmers to invest the time, energy and finances needed to successfully launch a farming enterprise.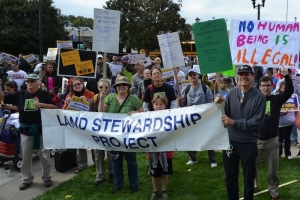 For information on joining the LSP contingent at the Oct. 5 march and rally, click here or just show up and look for us carrying the Land Stewardship Project banner.
The time to act is now.
Doug Nopar is an LSP organizer based in southeast Minnesota.