A Land Stewardship Project member with decades of experience in agricultural lending has been appointed to the U.S Secretary of Agriculture's Advisory Committee on Beginning Farmers and Ranchers. Tim Gossman, who is a vice president and commercial and agriculture loan officer at Merchants Bank in St. Charles, Minn., is also a supervisor for the Fillmore Soil and Water Conservation District. He is one of 20 new members on the national advisory committee.
Gossman, who farms part-time near Chatfield, has 32 years of experience in agricultural lending, and has been a regular trainer for the Land Stewardship Project's Farm Beginning course, which helps new farmers throughout the Upper Midwest launch their agricultural enterprises.
"New farmers and ranchers are important not only to agriculture but for rural communities as well. I'm excited and honored to be appointed to the Advisory Committee on Beginning Farmers and Ranchers," says Gossman. "My involvement in agricultural lending and in working with community-groups on new farmer challenges are experiences I can bring to this committee."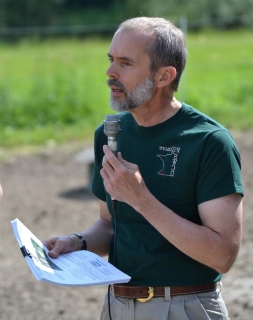 The Advisory Committee provides guidance to the USDA Secretary on expanding opportunities that will help beginning farmers and ranchers. Appointees include farmers, ranchers, educators, bankers, veterans, agency personal and representatives from farm organizations.
USDA is responsible for offering various credit, conservation and training initiatives such as the Beginning Farmer and Rancher Development Program that are specifically targeted at the next generation of farmers. Yet, as with many farm programs, the expired Farm Bill has left many of these programs inoperable or short of funding. Members of Congress who are on the Farm Bill conference committee are currently working on finalizing a new five-year law.
"I'm encouraged to see Minnesotans appointed to the Secretary's Advisory Committee on Beginning Farmers and Ranchers and look forward to working with them to support the next generation of family farmers," said Minnesota U.S. Senator Amy Klobuchar, who was appointed to the Farm Bill Congressional conference committee this fall. "To keep our agriculture economy strong for generations to come, we need to make sure our beginning farmers and ranchers have the tools they need to succeed. That's why we need to pass a strong, long-term Farm Bill which includes programs that provide training and assistance for beginning farmers as well as helps new farmers and ranchers access crop insurance and land for cattle grazing."
While no date has been set for the next Advisory Committee meeting, details and topics for discussion will be posted on the USDA website.
"The average age of farmers in the United States and in Minnesota continues to rise," says Gossman. "We need to remove barriers and implement ideas that will enable the next generation of farmers to produce the food we need while conserving our soil and water for the future."